USAID, Ukraine Ministry of Digital Transformation, and Eurasia Foundation Introduce Groundbreaking e-Governance App Diia to U.S. Audiences at Diia in DC
May 31, 2023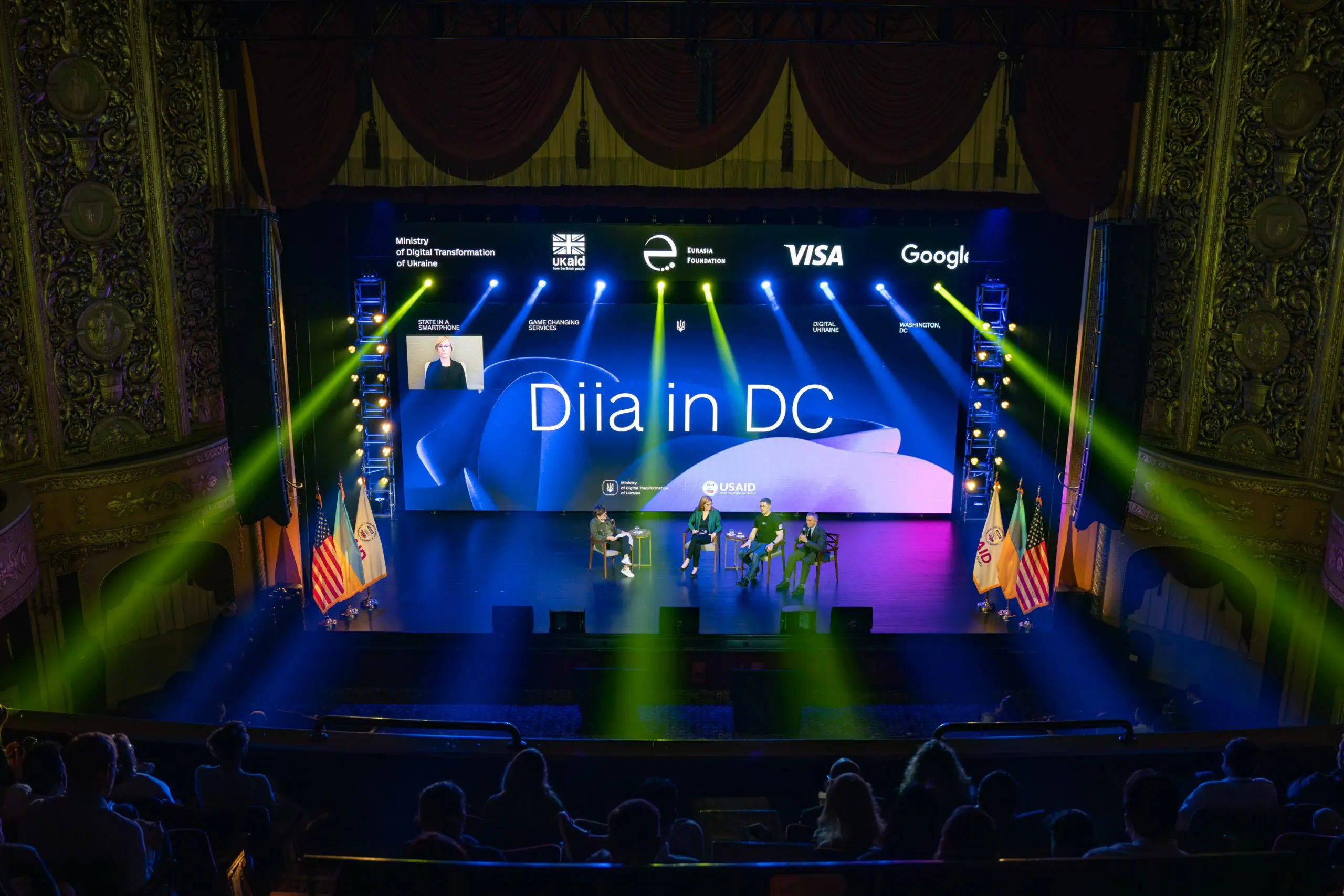 Tuesday, May 23, marked the first-ever Diia in DC, an electrifying showcase of Ukraine's groundbreaking e-governance app, Diia. USAID Administrator Samantha Power and Ukraine's Vice Prime Minister and Minister of Digital Transformation Mykhailo Fedorov took the stage alongside Ukraine's Ambassador to the United States Oksana Markarova, Editor-at-Large for New York Magazine Kara Swisher, Visa's Chairman of the Board of Directors Al Kelly, and Eurasia Foundation's Chair of the Board of Trustees Pamela Spratlen.
Launched in February 2020, Diia has revolutionized the way Ukrainian civilians engage with their government. Every day, Diia connects 19 million Ukrainians with more than 120 government services. Many of these e-services were developed under Eurasia Foundation's Transparency and Accountability in Public Administration and Services (TAPAS) Activity, funded by USAID and UK Aid.
"I want to thank those on our USAID teams, at UK Aid, at Eurasia Foundation, and in the Ukrainian government, who had the foresight to invest in Ukraine's digital transformation beginning eight years ago," remarked Administrator Power.
Since Russia's full-scale invasion of Ukraine in February 2022, Diia has become a lifeline for the Ukrainian people, supporting displaced Ukrainians and providing essential services to those affected by war.
"Through Diia, the government of Ukraine wasted no time in delivering relief to Ukrainians," said Eurasia Foundation's Pamela Spratlen. "The government knows that a fair and efficient reconstruction does not begin when the war ends. It starts today. Indeed, long before builders pick up hammers and nails, digital tools developed under TAPAS will facilitate Ukraine's reconstruction and recovery."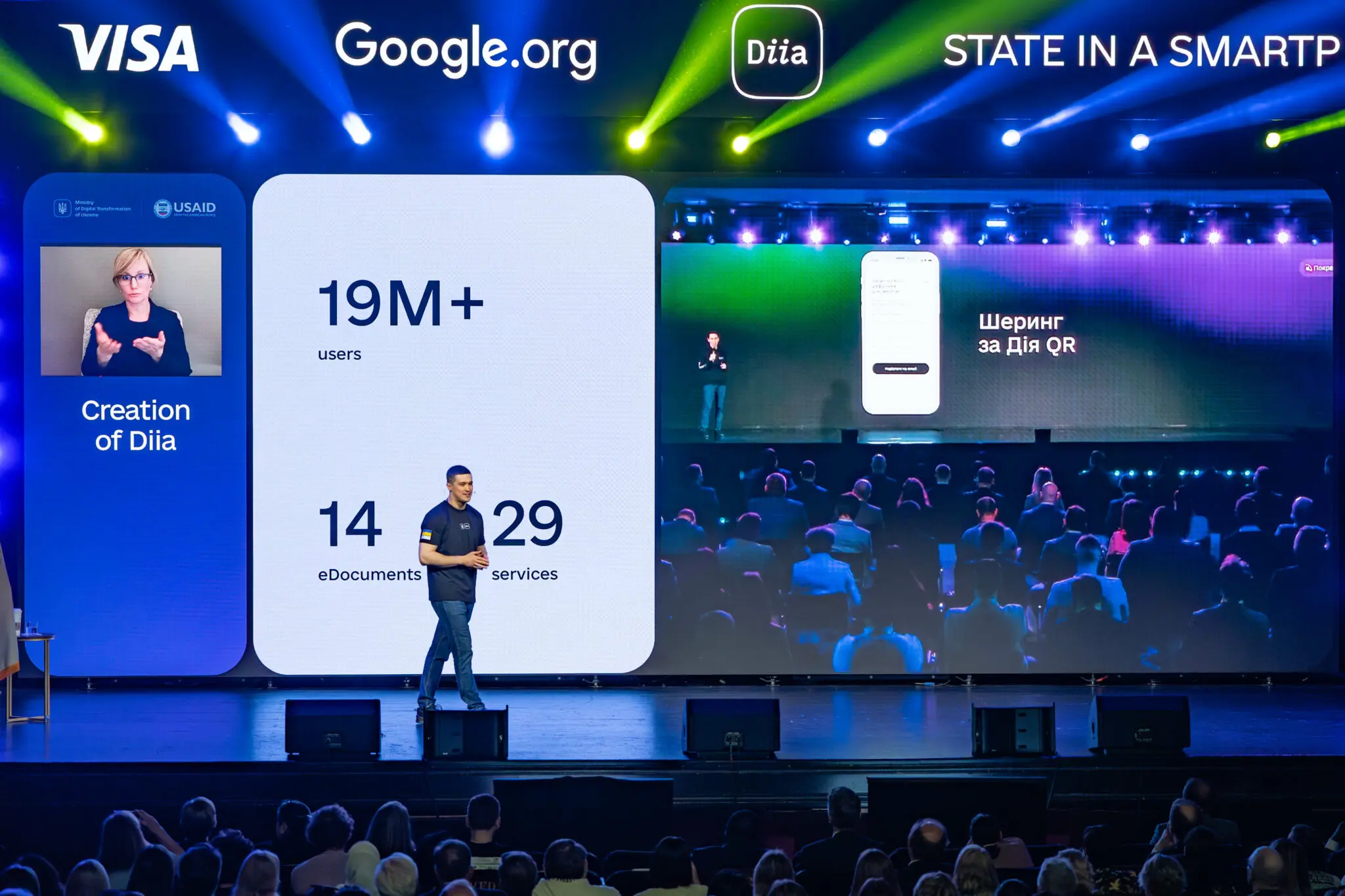 At the event, Administrator Power announced that countries around the world will soon follow Diia's lead. USAID is exploring ways to support partner countries, including Colombia, Kosovo, and Zambia, in adopting e-governance tools. Estonia, the world leader in e-governance, will soon launch their own app based on Diia's model.
This announcement follows Administrator Power's announcement in January 2023 that the United States would provide at least $650,000 to help jump-start the adoption of systems like Ukraine's Diia platform elsewhere. It launches the first phase of USAID's effort to support partner countries in completing technical assessments and other steps necessary to develop a one-stop-shop app for government services.
The expansion of Diia-like systems is part of USAID's commitment to advance access to digital public goods that provide safe, trustworthy, and inclusive public and private services, reduce corruption, and foster constituent engagement in political processes. USAID will also continue to work closely with Ukraine to both model Diia and to facilitate partnerships with nations who want to adopt elements of Diia.
"Together, we are sending the world a clear message. When democracies are challenged—when we are tested—we work together, share great ideas, and invest in each other's futures," said Administrator Power. "We unleash the incredible innovation and insight of our citizens to solve tough problems and make people's lives better. And in so doing, we emerge stronger than ever."
"Eurasia Foundation is here to work as a proud partner with USAID, UK Aid, and the Ministry of Digital Transformation to move that process forward. We are championing the transparent, accountable, and equitable recovery and reconstruction of Ukraine. Ukraine's post-war transformation will require ingenuity, flexibility, and the concerted efforts of millions. Thank you for joining us on this journey," said Pamela Spratlen.
Watch the event in full below. Then, catch Administrator Samantha Power and Vice Prime Minister Mykhailo Fedorov live on MSNBC here.