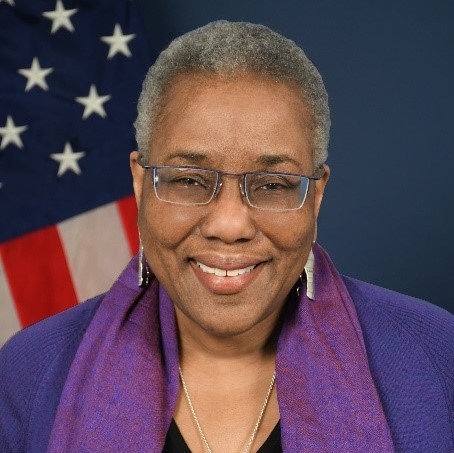 U.S. Ambassador (retired)
The Honorable Pamela L. Spratlen, Chair
Pamela L. Spratlen is a diplomat, mentor, policy expert, speaker and leader who served for nearly 30 years with the Department of State in the U.S. Foreign Service. Ambassador Spratlen supports America's global engagement through diplomacy through membership in organizations like the American Academy of Diplomacy, the Una Chapman Cox Policy Committee, and the American Black Ambassadors Association.
Ambassador Spratlen's leadership experience includes 10 years in Central Asia, of which she served eight as U.S. Ambassador, first to Kyrgyzstan (2011-14) and then to Uzbekistan (2015-18).  She also served as Deputy Chief of Mission (Deputy to the Ambassador) in Kazakhstan (2009-11) and in Washington as the Country Director/acting Deputy Assistant Secretary for Central Asia (2006-07).  She served four years in Russia, including as Consul General in Vladivostok from 2002-04.
Ambassador Spratlen's senior domestic assignments include Senior Advisor in the Office of the Inspector General (2018-19); Director of Western European Affairs (2008-09), Director of Central Asian Affairs and Acting Deputy Assistant Secretary (2006-08); Special Assistant to the Counselor to the Secretary of State (2005-06).  In her early and mid-career with State she served in Guatemala City, Paris, Moscow, Vladivostok, Honolulu, and Washington.  She retired in 2019.  She began her career as a VISTA volunteer in California and served for over eight years on the professional staffs of committees of the California Legislature.
From March to September 2021, she served as the Senior Advisor to the Health Incidents Task Force and provided oversight to the department's efforts to support those affected by anomalous health incidents.
Ambassador Spratlen received her bachelor's degree from Wellesley College in Massachusetts and holds master's degrees from the Army War College and the Goldman School of Public Policy at UC Berkeley.  She has received numerous awards.  She speaks Russian, French, and Spanish.
She was born in Ohio and lives in northern Virginia.