Future Changemakers Forum
August 15, 2023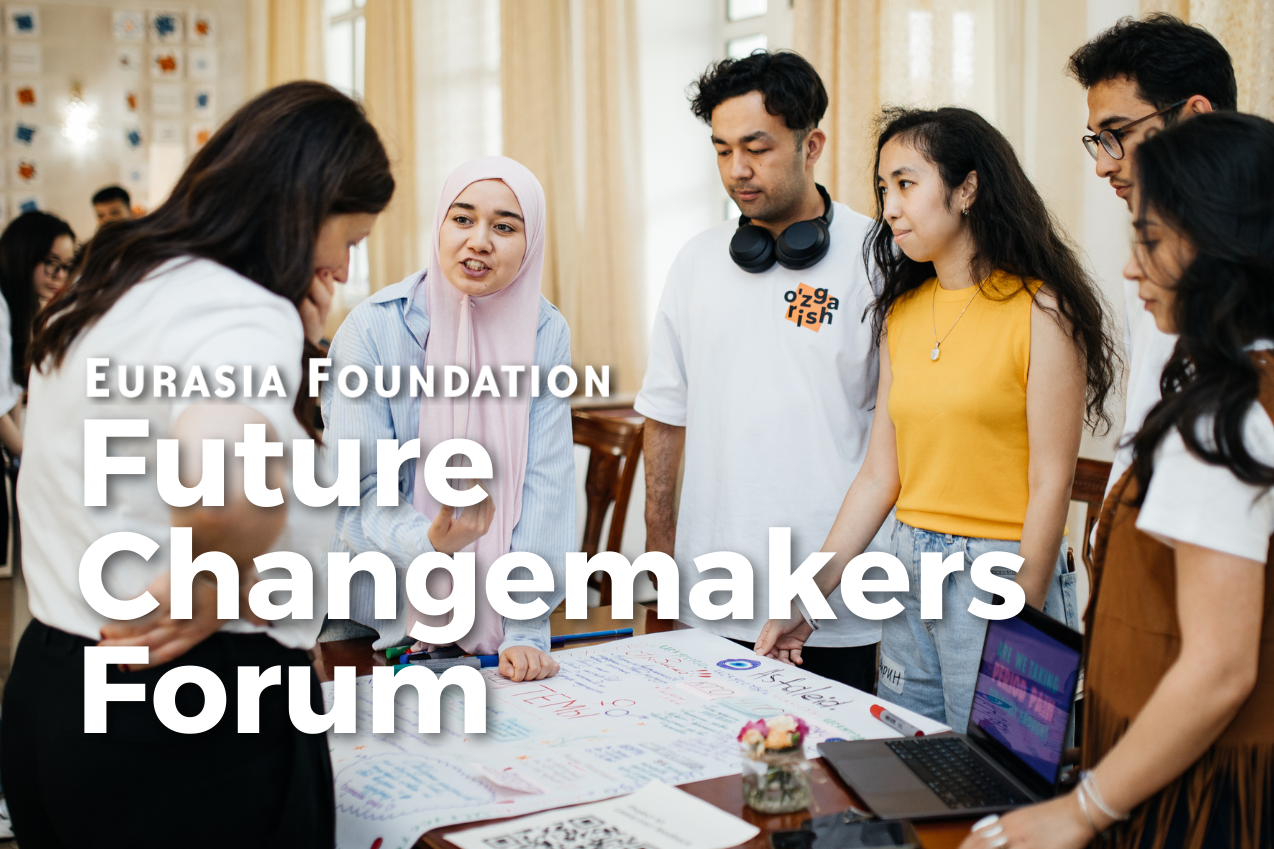 Eurasia Foundation's Future Changemakers Forum will bring together a powerful collection of bold and innovative voices on the frontlines of progress. The forum will honor the tireless courage of Ambassador Oksana Markarova, one of Ukraine's greatest advocates. We will also celebrate three forward-thinking Women Changemaker Fellows as they embark on their learning tours in the United States.
Hear from these remarkable leaders and more, including distinguished alumni of Eurasia Foundation's Young Professionals Network. Then, join us for a celebratory reception with live jazz performed by Latin Grammy Award-winning pianist Bienvenido Dinzey and passed hors d'oeuvres catered by Ruta.
Purchase your ticket or donate online. All proceeds support Eurasia Foundation's dynamic leadership and exchange work.
2023 Sarah Carey Award: Honoring Ambassador Oksana Markarova
With the Sarah Carey Award, Eurasia Foundation recognizes an individual who has notably advanced civil society through the practice of diplomacy, law, business, or public advocacy. Honorees embody the pioneering spirit of Eurasia Foundation's long-serving chair, Sarah Carey. Throughout her abundant life and career, Sarah Carey was a tireless and effective champion of economic and cultural engagement between people of the United States and the Eurasia region. Past Sarah Carey Award recipients include Ambassador Thomas R. Pickering, Senators Richard Lugar and Sam Nunn, Ambassador William J. Burns, Drew Guff, and Dr. Fiona Hill.
Oksana Markarova has served as Ukraine's Ambassador to the United States since April 20, 2021. She previously served as Ukraine's First Deputy Minister and Government Commissioner on Investment from 2015 to 2018 and as a Minister of Finance from 2018 to 2020. During her time at the Ministry of Finance, Markarova co-authored Ukraine's macroeconomic revival program. She introduced midterm and gender-oriented budgeting and conducted unprecedented fiscal consolidation. She also negotiated, structured, and coordinated two International Monetary Fund programs and other international finance institution cooperation programs. During her tenure, she and her team created the government promotion agency UkraineInvest, the Ukrainian Startup Fund, and an ecosystem of government public finance portals based on open data. Among these portals are spending.gov.ua and openbudget.gov.ua. Markarova also oversaw the creation of BOOST, an analytical instrument that opened the majority of state finance data to the public. These advancements improved Ukraine's rank in all major international transparency ratings.
Prior to her career in public service, Markarova spent 17 years working in private equity and financial advisory. She held leadership roles at ITT Investment Group, Western NIS Enterprise Fund, Chemonics, and the World Bank. She also founded Archidata, a startup electronic archive company, in between service positions in 2020.
Celebrating Trailblazing Leaders
With the Fellowship for Women Changemakers, Eurasia Foundation spotlights and supports unstoppable women making a difference in the fight for a more just, equitable, and peaceful world. Launched in 2021, the fellowship honors women leaders advancing projects to cultivate vibrant, responsive, citizen-oriented civil societies globally.
Saida Alimova | Uzbekistan
Saida Alimova is a case manager at the International Organization for Migration in Uzbekistan. She previously worked as a human trafficking hotline operator in Uzbekistan, connecting with cross-regional networks to bring survivors home and perpetrators to justice.
Khaliza Azhigulova | Kazakhstan
Khalida is an activist and legal scholar leading the fight against domestic violence in Kazakhstan. Khalida is tireless in her efforts to reform domestic violence law, to see women represented in government decision-making, and to equip people of all ages to defend their rights.
Olha Nos | Ukraine
Olha Nos is a project manager at Prozorro, Ukraine's e-procurement system. She was previously a member of DOZORRO, a citizen watchdog network in Ukraine, where she helped monitor and root out corruption. Olha upholds transparency in public spending and inspires others to do the same.
In conversation with Jill Dougherty
Jill Dougherty is a Eurasia Foundation trustee, global fellow at the Woodrow Wilson International Center for Scholars in Washington, DC, and CNN contributor who provides expert commentary on the Eurasia region. She is also an adjunct professor at Georgetown University's Center for Eurasian, Russian, and East European Studies at the Walsh School of Foreign Service.