Young Professionals Network Welcomes 2022-2023 Cohort
October 25, 2022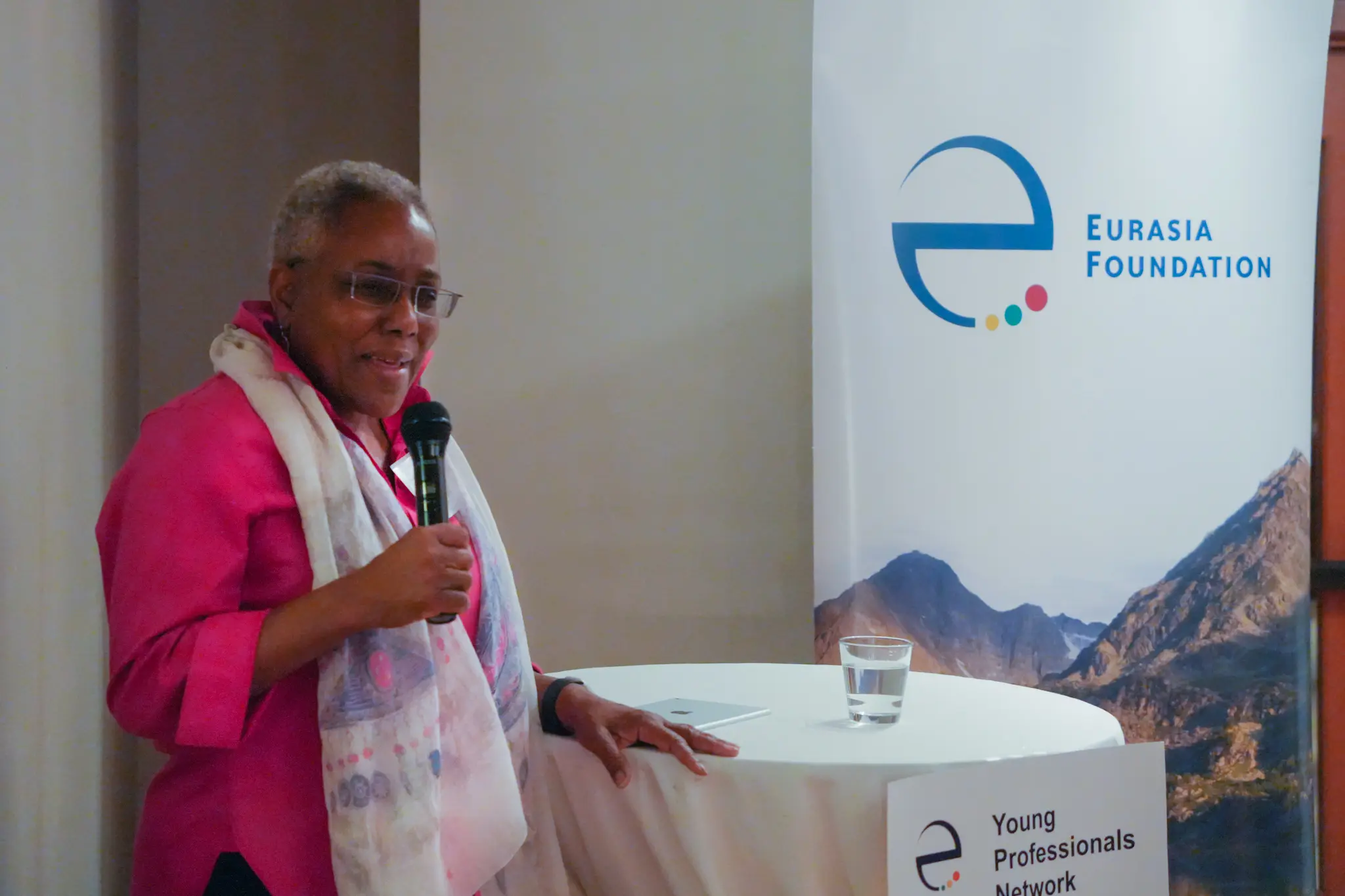 On Monday, October 24, Eurasia Foundation welcomed 24 new fellows  into the Young Professionals Network (YPN). This reception was YPN's first in-person welcoming ceremony since 2019. The event began with opening remarks from Hrach Topalyan, EF's director of education, leadership, and exchange, and Lisa Coll, EF president. The Honorable Pamela L. Spratlen, retired ambassador and chair of EF's Board of Trustees, delivered a keynote address.
Ambassador Spratlen discussed her path to a successful thirty-year career in the U.S. Foreign Service. She reflected on the many changes in the Eurasia region since she began her service and offered her outlook on the region's future. Ambassador Spratlen repeatedly emphasized the importance of developing a new generation of young professionals from diverse backgrounds who will guide the United States' engagement in foreign affairs for decades to come. Fellows participated in a Q&A session with the ambassador, asking for her thoughts on current affairs and her most cherished memories from living in Central Asia.
For the next nine months, YPN fellows will meet with senior Eurasia experts in off-the-record discussions on diplomacy, policy, journalism, and international affairs. YPN meetings will offer these emerging thinkers and leaders the opportunity to expand their networks, dive deeper into topics of interest, and stay up to date on the latest developments in the region.
This year's cohort represents a diverse array of professional backgrounds, including think tanks, universities, governmental, non-governmental, and international organizations. It includes fellows from the American Bar Association, American Enterprise Institute, American University, Army Reserve, Atlantic Council, Bukharian Times, the Bureau of Economic Analysis, Center for International Private Enterprise, Citibank, Common Mission Project, CRDF Global, Department of State, Department of Justice, FHI360, Georgetown University, International Law Institute, Johns Hopkins University, National Endowment for Democracy, PYXERA Global, Search for Common Ground, and USAID. The new cohort also represents five countries: Iran, Kazakhstan, Poland, the United States, and Uzbekistan. All have extensive education, work experience, and language skills relating to the Eurasian region.
EF's Board of Trustees established the Young Professionals Network in 2012 to honor EF's late board chair, Sarah Carey, for her pioneering spirit and deep connection to Russia and the Eurasia region. EF identifies rising leaders who share Sarah Carey's commitment to international engagement in the region and connects them with established professionals who can help mentor a new generation of politicians, diplomats, and analysts. During its eleven-year history, EF has welcomed over 300 early-career professionals into the network.
Find profiles of this year's cohort here and a video about the program here.