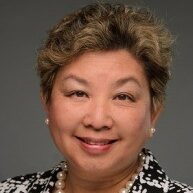 Chief Operating Officer, Patient-Centered Outcomes Research Institute
Regina Yan
Regina Yan is the Chief Operating Officer (COO) of the Patient-centered Outcomes Research Institute (PCORI), a healthcare research funding organization based in Washington, DC, and established by the U.S. Congress that aims to provides patients and those who care for them with the information needed to make better-informed healthcare decisions. As COO, Yan provides strategic visions for the business operations of the organization. She oversees all aspects of PCORI's financial and administrative operations, including human resources, contracts oversight, compliance, facilities, budgeting, and information technology. PCORI funds about $500 million in patient-centered healthcare research annually.
Yan has a long and successful track record helping large foundations and non-profit organizations develop the structure and capacity needed to operate more efficiently. She joins PCORI after serving as the first Chief Operating Officer of the Peterson Institute for International Economics. Yan also served as Executive Vice President at Eurasia Foundation. For more than a decade, she directed the organization's general operations in more than a dozen countries and managed special projects, such as the media viability fund, small business lending program, and incubation of the economic education and research program into the Kyiv School of Economics (KSE). She served for a decade as board chair of KSE, a preeminent international graduate economic program in Ukraine, providing strategic governance leadership and championing its fundraising efforts.
Most importantly, Yan spearheaded Eurasia Foundation's effort to transform its country offices into indigenous local foundations through a multi-year process of infrastructure building, knowledge transfer and leadership development. Yan served as founding board member of the East Europe Foundations in Ukraine and Moldova.
In addition, Yan held various executive positions at IREX, an international research and education organization, where she provided management oversight to IREX's field operations in 22 countries and launched its programs in Asia. Prior to that, she managed international programs at the U.S. National Academy of Sciences and the National Academy of Medicine (formerly the Institute of Medicine).
She received her bachelor's degree from Whitworth University in Spokane, WA, and her master's degree from the University of Hawaii.
Yan was a recipient of the C-Suite award by the Washington Business Journal for her leadership in organizational success. She is also a certified Human Capital Strategist.