Eurasia Foundation Honors Fiona Hill with 2021 Sarah Carey Award at Inaugural Women Changemakers Forum
May 4, 2021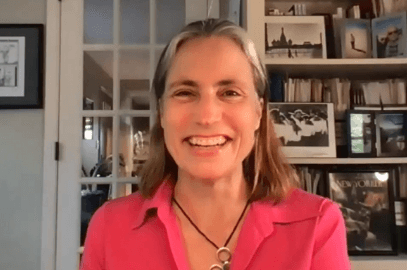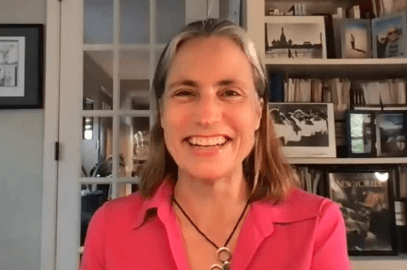 On April 27, 2021, Eurasia Foundation (EF) hosted the inaugural Women Changemakers Forum, a celebration of inspirational women leaders around the world. The event centered the groundbreaking contributions of women across EF programs who are driving positive change in their communities. At the Forum, EF honored foreign policy expert Fiona Hill with the 2021 Sarah Carey Award.
The Sarah Carey Award, named for EF's long-serving board chair, recognizes civic leaders who use their unique position to strengthen civil society globally. This year, EF selected Fiona Hill for her commitment to bolstering civil society across Eurasia and her exceptional reputation for professional integrity. Hill is the Robert Bosch senior fellow in the Center on the United States and Europe at Brookings Institution. Previously, she served as deputy assistant to the president and senior director of European and Russian affairs on the National Security Council from 2017 to 2019. From 2006 to 2009, she served as national intelligence officer for Russia and Eurasia at the National Intelligence Council. Prior to joining Brookings, Hill was director of strategic planning at EF. She later served as advisor to the president and on the EF board of trustees.
In dialogue with Angela Stent, director of the Center for Eurasian, Russian and East European Studies and a professor of government and foreign service at Georgetown University, Hill discussed the role of women in shaping global priorities. She highlighted the power of grassroots organizing for amplifying the voices of women and marginalized communities, even in restrictive environments. She further examined recent challenges facing women's movements and how shifting priorities on the world stage may affect these movements going forward. "Inevitably," she emphasized, "societies change by the strength of their women banding together."
"So, what we're grappling with," she continued, "is how to create change that's sustainable. Working at the grassroots with communities to get people to have their voice and to have a say—to be agents of change themselves and to realize they have agency—has been very important. We need a lot more of that kind of activism at the civic level to give people a sense that they can make a change in their community and then see those changes reflected at the top."
At the event, EF also launched the Fellowship for Women Changemakers. With this new fellowship, EF supports visionary women leaders advancing projects to cultivate vibrant, responsive, citizen-oriented civil societies globally. Fellows travel to Washington D.C. to meet and collaborate with peers and partner organizations, discussing challenges and opportunities for growth. The fellowship will support women leaders to grow their movements, build international networks, and amplify the priorities of their communities.
EF introduced the Fellowship's first cohort, a group of women from Kazakhstan, Russia, Ukraine, and Uzbekistan. These extraordinary women are working to combat domestic violence, champion the rights of people with disabilities, prevent corruption in public spending, and support survivors of human trafficking.
"There is still a lot of work to do, but when I see the dedication and bravery of the women we are spotlighting tonight, I know we are moving in the right direction," said Lisa Coll, EF President, of the 2021 fellows.
EF's Fellowship for Women Changemakers is funded entirely by the contributions of generous donors. To support this initiative, click here. Your generosity is deeply appreciated.