Prozorro+ Meets Humanitarian Needs in Wartime Ukraine
May 10, 2023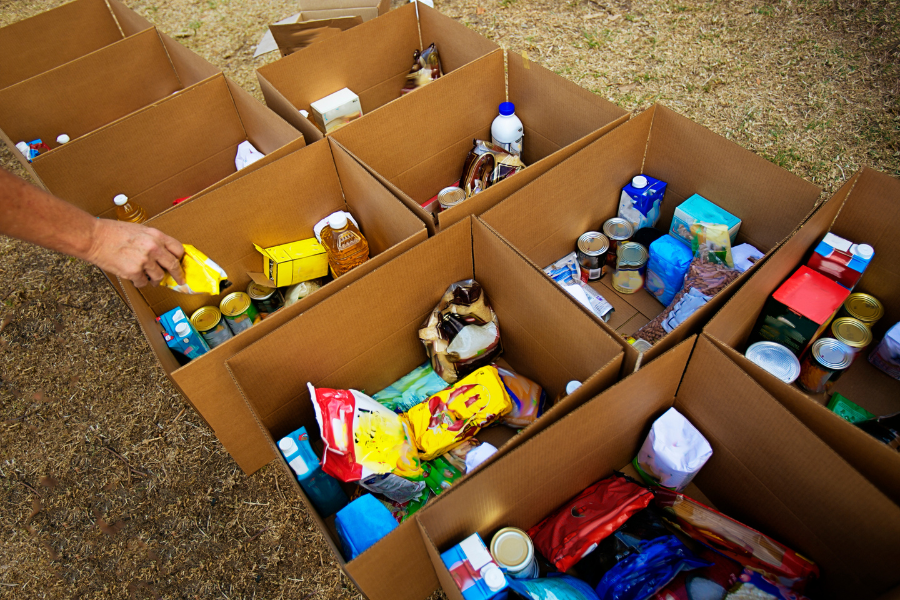 In wartime, the need for fast, effective, and transparent procurement processes is urgent—in some cases, lives may depend on it. For this reason, government buyers and suppliers alike are looking for fast and simple procurement procedures to meet high demand for essential goods like food, clothing, personal care products, and medicine.
The humanitarian e-procurement system Prozorro+, an online platform developed with support from EF's Transparency and Accountability in Public Administration and Services (TAPAS) project, aims to meet these needs while providing full transparency on the delivery of aid in Ukraine.
Ukrainians unite to help those affected by war
"Those who left their hometowns left not because something good was waiting for them, but because they simply did not have the opportunity to stay," says a representative of the Piatykhatky City Council Social Service Delivery Center, who organized a shelter for internally displaced people in south-central Ukraine. "It is important that these people know that they have a place to stay and that they will receive help, food, and shelter. Prozorro+ makes it possible [for us] to provide this assistance."
Piatykhatky is a community of 26,000 residents located in the Dnipropetrovsk region. Of these residents, approximately 1,400 are internally displaced people. Nine multigenerational families live full time in the shelter, and up to 50 people stay overnight almost every day.
In the first two months of the war alone, the shelter accommodated more than 3,000 people, many of whom had fled their homes in Zaporizhzhia, Kherson, and Mykolaiv regions, on the front lines of war. As demand for the shelter grew, so too did demands for funding to provide sheltered families with food and essentials.
Bershad, a city of 42,000 located in the Vinnytsia region, faced a similar predicament. Approximately 5,000 Ukrainians have sought temporary shelter in Bershad since the war began.
Initially, Bershad was simply a transit point where internally displaced people stayed for a few weeks and then moved on. However, as the war dragged on, families began to settle in Bershad simply because they had nowhere else to go. Today, Bershad shelters almost 1,400 internally displaced people.
Piatykhatky and Bershad are just two communities among many across Ukraine, burgeoning with internally displaced people and struggling to provide for residents impacted by war. According to UNHCR, nearly 6 million people are internally displaced in Ukraine. An estimated 17.6 million people are in need of humanitarian assistance. Faced with limited financial resources to ensure proper living conditions for new residents, communities are finding critical assistance using Prozorro+.
Prozorro+ helps internally displaced Ukrainians
Prozorro+ connects state-level and community institutions caring for Ukrainians impacted by war with donors ready to finance their needs. Prozorro+ is a derivation of Ukraine's acclaimed Prozorro e-procurement platform, also backed by TAPAS. The platform ensures transparency and accountability in humanitarian spending during wartime.
Prozorro+ maintains a catalog of more than 100 categories of high-demand humanitarian goods, such as personal care products, medicine, clothing, shoes, laptops, generators, fuel, and more. Suppliers who are equipped to provide these goods publish offers on the platform. Buyers—who include government authorities, military-civilian administrations, humanitarian organizations, and state and social institutions caring for vulnerable populations—also publish requests for commodities, even if they do not have funding to finance the purchase themselves. The Prozorro+ team then helps match buyers with donors who can purchase these goods.
Altogether, Prozorro+'s positive impact is threefold: the platform helps humanitarian providers access the goods they need; helps Ukrainian businesses resume operations and contribute to Ukraine's economy; and helps donors ensure their funds are administered transparently and directly meet civilian needs.
As of March 2023, government buyers had placed over 400 requests for assistance through the Prozorro+ platform. Over 100 of these requests have been met by both domestic and international donors contributing more than UAH 2,375,000 (USD$64,000).
"Thanks to Prozorro+, we have been able to support internally displaced people [in Bershad] by providing them, with the help of donors, with essentials [like] food, hygiene products, and other needs," says the Social Protection and Public Health Department of Bershad City Council.
How Prozorro+ works
Because Prozorro+ is new to users, many of whom may be altogether unfamiliar with procurement procedures, Prozorro+ representatives are on call to help new users navigate the system. With support from the Prozorro+ team, users can swiftly post requests and efficiently acquire the goods they need. Explains a representative of Bershad City Council: "We called the representatives of the platform and found out what needed to be done. At first, the procedure seemed complicated. However, step by step, following the instructions of Prozorro+ representatives, we calculated the number of internally displaced people, their needs, made a justification for these needs, and placed them on Prozorro+. Then, we held an online meeting with donors, where we discussed the reporting procedure and the amount of possible funding,"
With the help of Prozorro+ representatives, the Bershad City Council announced a tender for essential supplies to support internally displaced people. Shortly thereafter, vendors contracted with the Council and delivered UAD 300,000 (over USD$8,000) worth of goods, all with donor support. After shelter volunteers distributed the goods, they reported back to the donor.
The Social Service Delivery Center of Piatykhatky City Council also quickly found a donor using Prozorro+. The Center maintains a kitchen where sheltering residents can prepare hot food. With donor support via Prozorro+, the Center purchased 90 days' worth of vegetables, grains, oil, milk, eggs, and other essentials for a total of UAH 272,000 (over USD$7,400). The Center regularly reports on the goods' use.
A way forward
The war has left millions of Ukrainians without a roof over their heads or money to live on. For many, the only life-saving option has been to flee, often leaving everything behind. Fellow Ukrainians have united with the international community to offer time, financial, and material resources to help internally displaced people.
However, for the individuals providing direct assistance to internally displaced people, the search for aid is time consuming and resource heavy, particularly as the war enters its second year. Representatives of both Piatykhatky and Bershad commented on the challenges they faced in locating humanitarian essentials. Now, thanks to Prozorro+, they and others can quickly find donors eager to provide funding or material aid. For these donors, Prozorro+ is both convenient and assuring, as it prioritizes transparency and accountability in both donation and reporting, and encourages further investment in Ukraine.