Growing Networks of Young Professionals Working in Eurasian Affairs
October 17, 2018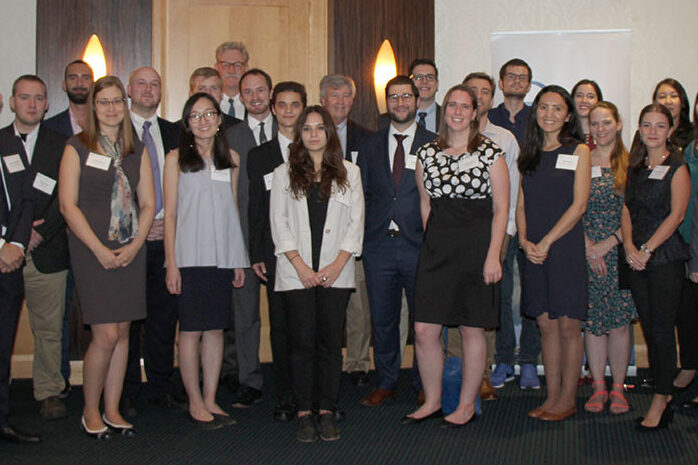 On October 1, Eurasia Foundation Trustee, the Honorable William Courtney joined the Foundation's president, Horton Beebe-Center, in welcoming 29 new members into the Young Professionals Network.
This is the seventh cohort to join the network. These emerging leaders will meet regularly over the next nine months to engage in meaningful discussions with seasoned professionals in diplomacy, policy, journalism, and government affairs. Discussion topics include diplomacy, security, economic development, and foreign assistance.
"I joined the Young Professionals Network because it presents a unique opportunity to build connections with a group of young people like myself who share a deep passion for Eurasia," said Catherine Putz, managing editor of The Diplomat. "I am excited about learning not just from the experiences of established experts in the field, but really getting to discover my cohort and learning from them."
The 2019 Class of the Young Professionals Network comes from ten countries: Estonia, Georgia, Hong Kong, Kyrgyzstan, Macedonia, Russian, South Sudan, Tajikistan, United States, and Uzbekistan. All have extensive language, education, and work experience in the Eurasian region and reside in the Washington, D.C. area.
"I am very excited to become a new member of the YPN," said Khamza Sharifzoda, a graduate student at Georgetown University's School of Foreign Service and comes from Tajikistan. "It is a great avenue for developing a more nuanced understanding of the region by interacting with participants of this network. It is an invaluable opportunity to make new friends in D.C. and to acquire professional contacts."
Eurasia Foundation's Board of Trustees established the Young Professionals Network in 2012 to honor EF's late Board Chair Sarah Carey for her pioneering spirit and her deep connection to Russia and the Eurasia region. EF identifies rising leaders who share Sarah Carey's commitment to international engagement in the region and connects them with established professionals who can help mentor a new generation of politicians, diplomats, and analysts. During its seven-year history, EF has welcomed 214 young and mid-career professionals into the network.
Click here to read more about Eurasia Foundation's Young Professionals Network and its class of 2018-2019.