Eurasia Foundation Incubates Impact Investment Fund
April 24, 2017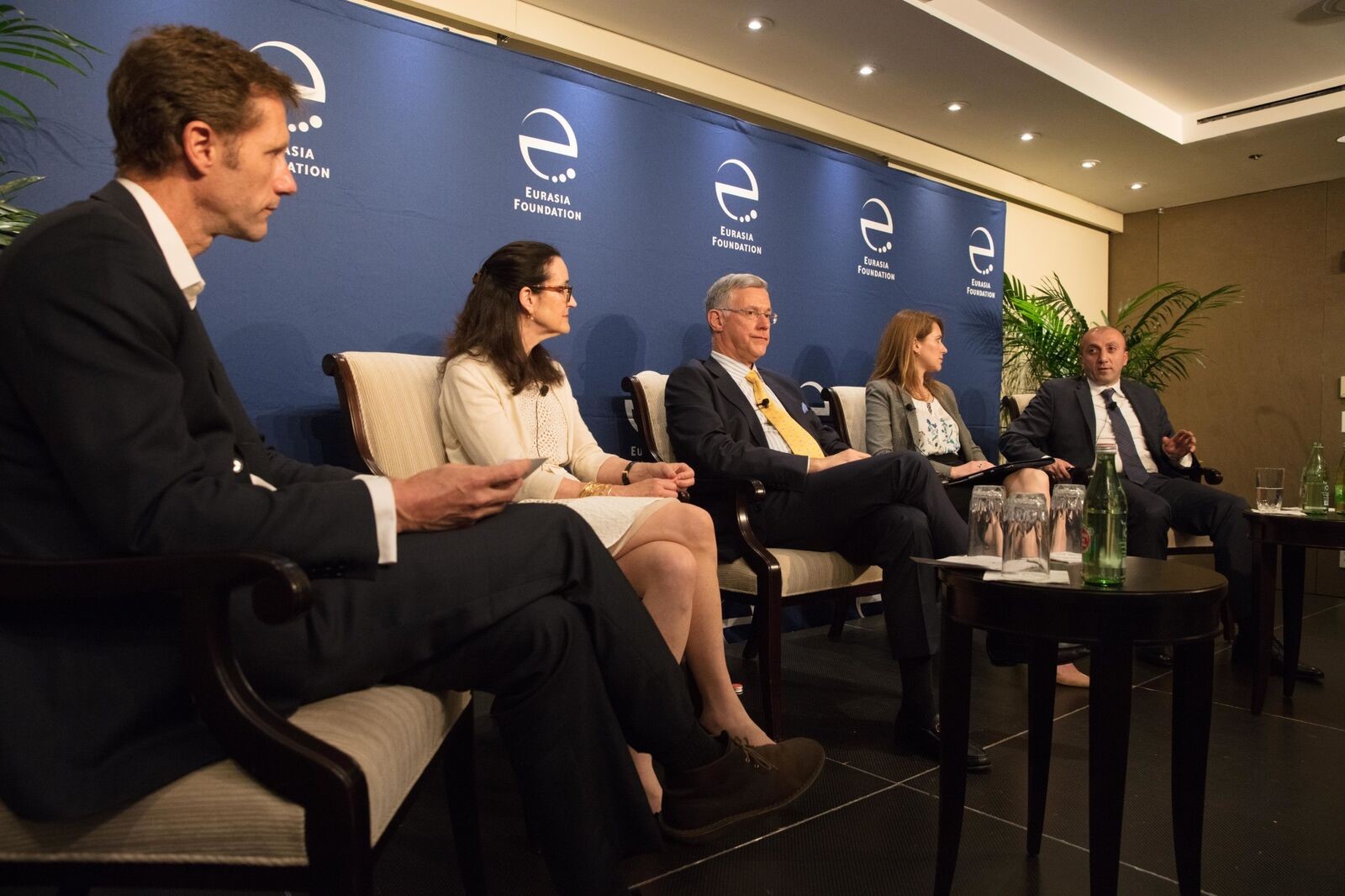 Eurasia Foundation is often recognized for our work in the democracy and governance sphere. We also have a history of facilitating private sector and local economic development in the regions where we work. That history laid the groundwork for EF to incubate and launch Gazelle Finance, a new impact investing fund working in Georgia and Armenia and soon to expand to other Eurasian Countries.
On April 18, 2017, EF celebrated Gazelle Finance with a Sarah Carey Forum featuring the Wall Street Journal's Frontier Markets editor, Dan Keeler; John Didiuk of the Overseas Private Investment Corporation (OPIC), Frank Ingriselli of Global Ventures LLC and the Brightening Lives Foundation, Teresa Barger of Cartica Management, Giorgi Tsikolia of the Embassy of Georgia to the U.S., and Stephanie Komsa of Gazelle Finance. EF's Board of Trustees Chairman Jan H. Kalicki kicked off the event and EF's President Horton-Beebe Center, along with Gazelle Finance CEO Jeffrey Liebert, concluded the discussion.
Named for EF's long-serving chairman, the annual Sarah Carey Forum captures her pioneering spirit and her belief that business and law can overcome political obstacles and lead to social benefit for all.
The discussions started with the future of OPIC and its value to taxpayers, as well as the role that investing to grow small businesses will have in regional economic development. Mr. Didiuk recognized Georgia's intentional efforts to improve its business environment to attract investment.
The panel continued discussing growth opportunities in Eurasia, specifically Georgia and Armenia, and the need for capital to leverage that growth, including looking to past examples of the positive development impact that investment has had in Asia, Africa, and even Europe. Panelists shared their wisdom gained from decades working in the corporate and financial sectors, as well as developing economies.
"What made for a successful business in Germany was the same as in Africa: the ability to imagine a future," said Ms. Barger.
Gazelle Finance's operation in Armenia is an extension of Eurasia Foundation's Small Business Lending Program (SBLP), which disbursed and collected more than $10.4 million over ten years with a default rate of less than 2 percent. Georgia is one of Armenia's largest trading partners, is among the top ten countries in the ease of doing business ratings, and has posted significant economic growth rates over the last several years.
"We're looking at everyday companies that we believe in," said Ms. Komsa.
For its part, Georgia is working to create an environment friendly to the private sector, said Mr. Tsikolia. "E-government reform is a huge part of that effort." Reforms that go beyond the private sector will help make Georgia an attractive place to invest.
"We need to take risks. We love risks. It's why we're in business," said Ms. Barger, who went on to say that Georgia has done everything right to ease doing business there.
During his remarks, Mr. Liebert supported echoed her sentiment. "Georgia has done an amazing job of structuring the environment correctly," he said.
As a nonprofit organization and with the incubation of Gazelle Finance, Eurasia Foundation is one of the leaders in recognizing the development opportunities of catalyzing the private sector to provide expertise, build markets, and foster innovation among those who are struggling.
We know that development takes time, but we are working to ensure that the private sector is fully engaged in engaging citizens and empowering communities to build a better future.
The 2017 Sarah Carey Forum was made possible with the generous support of the Chevron Corporation, the Kennan Institute of the Woodrow Wilson International Center for Scholars, and the Brightening Lives Foundation.
Click here to view a video about EF's initiative to seed Gazelle Finance.