YPN Hosts Virtual Welcome Ceremony for 2020-2021 Cohort
November 12, 2020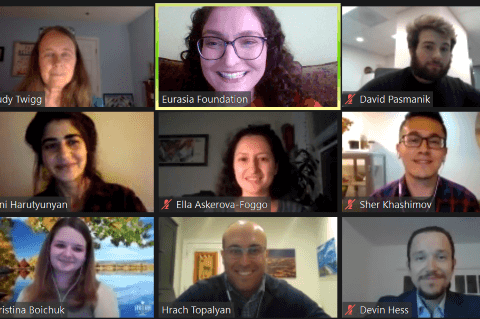 On Thursday, November 12, Eurasia Foundation will welcome 18 new members into the Young Professionals Network (YPN) through a virtual welcome ceremony. The event will begin with opening remarks from Hrach Topalyan, Director of Education, Leadership, and Exchange, and Lisa Coll, Eurasia Foundation President. Judyth Twigg, Eurasia Foundation Trustee, will deliver the keynote address, discussing how global challenges like the COVID-19 pandemic underscore the need for programs like YPN to build connections and bring an interdisciplinary approach to tackling shared challenges in the Eurasian region and beyond.
This will be the ninth cohort to join YPN. Over the next nine months, these rising Eurasian experts and leaders will convene to engage in off-the-record discussions with seasoned professionals in diplomacy, policy, journalism, and government affairs. These discussions will focus on timely issues in the region and reflect the regional and industry interests of the fellows.
This year's cohort represents a diverse array of professional backgrounds, including consulting firms, think-tanks, universities, governmental, non-governmental, and international organizations, and includes fellows from the Department of Defense, USAID, World Bank, and U.S. Commission on International Religious Freedom. The new cohort of 13 women and 5 men represent 7 countries, including Armenia, Georgia, Germany, Kazakhstan, Tajikistan, Ukraine, and the U.S. All have extensive language, education, and work experience in the Eurasian region.
Eurasia Foundation's Board of Trustees established the Young Professionals Network in 2012 to honor EF's late Board Chair Sarah Carey for her pioneering spirit and deep connection to Russia and the Eurasia region. EF identifies rising leaders who share Sarah Carey's commitment to international engagement in the region and connects them with established professionals who can help mentor a new generation of politicians, diplomats, and analysts. During its nine-year history, EF has welcomed 257 emerging professionals into the network.
Profiles of this year's cohort can be found here, and a video about the program is available here.