Young Professionals Network visits the Embassy of Romania
April 4, 2016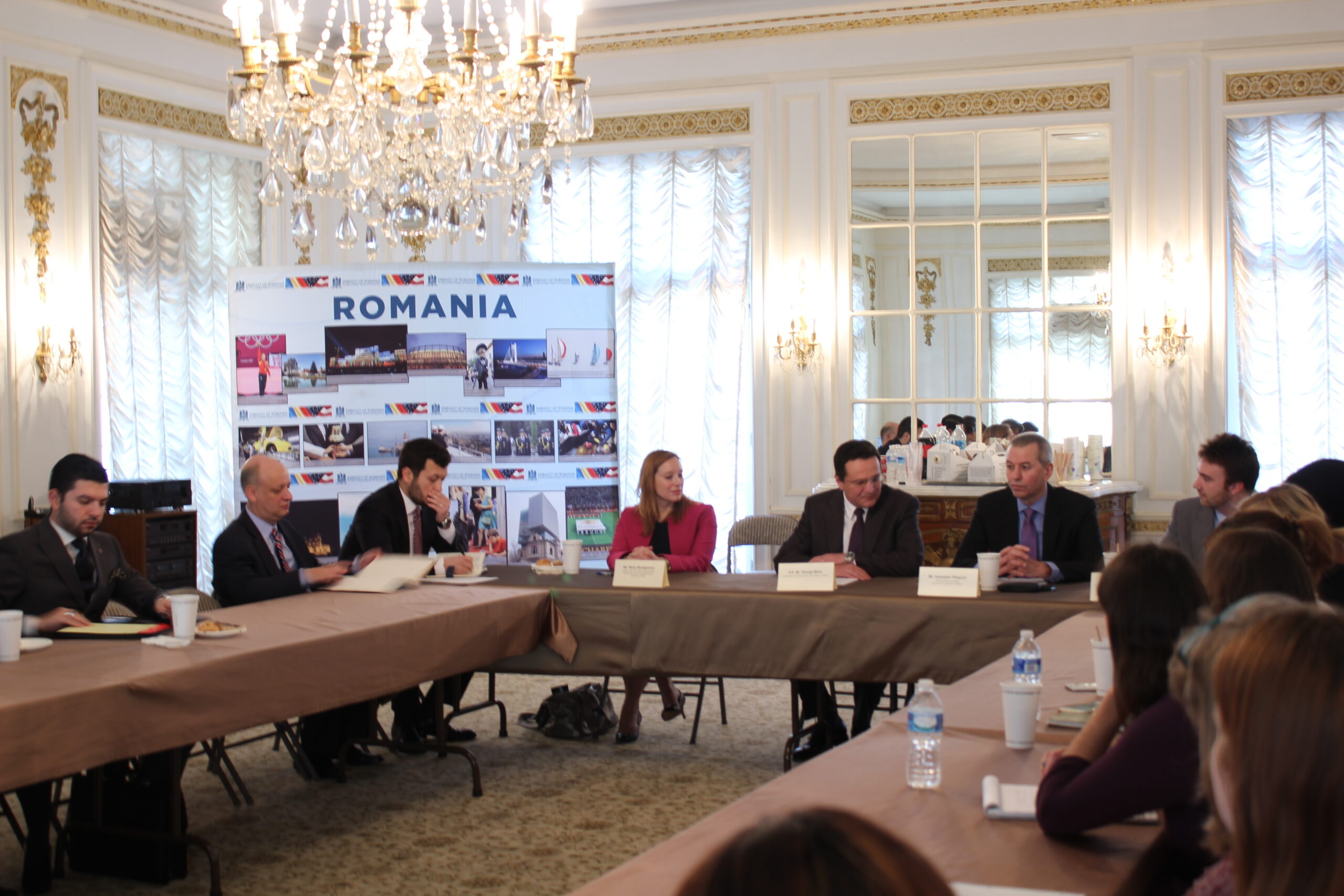 Moldova's unfolding economic crisis and recent anticorruption protests are threatening the country's stability and have region-wide implications. In recognition of this, last week EF's Young Professionals Network joined representatives from the Embassy of Romania, the Embassy of Moldova, and the Department of State to discuss this critical juncture in Moldova's geopolitical path.
H.E. George Cristian Maior, Ambassador of Romania to the United States, opened the conversation with an overview of Moldova's social, economic, and diplomatic achievements. Beyond a common border, Romania and Moldova share deep historical ties and a common interest in a future within a united European Union. Ambassador Maior emphasized Romania's commitment to a strong partnership with Moldova throughout its reform process. Veaceslav Pituscan, Charge D'Affairs ad interim of the Embassy of Moldova, expressed optimism about the benefits of the growing partnership between Moldova and the European Union, referring specifically to the European Neighborhood Policy as a way forward in tackling the country's endemic corruption and persistent economic challenges. After the banking scandal of 2014, when over $1 billion vanished from three of Moldova's leading banks, and the resignation of Prosecutor General Corneliu Gurin in March of 2016 amid corruption allegations, Moldova welcomed a new Governor of the National Bank of Moldova. In addition to enacting reforms outlined by the International Monetary Fund and the European Union, this move signaled the beginning of the government's efforts to strengthen the banking sector and improve the economy.
Molly Montgomery, Deputy Director for Eastern European Affairs for the Bureau of Europe and Eurasia at the U.S. Department of State, concluded the presentation by emphasizing the importance of addressing judicial, economic, and corruption quandaries, and maintained that the U.S. remains fully supportive of Moldova as its government addresses the concerns of its people and restores its international credibility.
During the question-and-answer session that followed, members of the Young Professionals Network and the panelists engaged in discourse on a range of matters. The group discussed Moldova's ongoing peace process with the disputed territory of Transnistria, inclusion of minority groups in Moldovan political life, and the evolution of Moldovan national identity.
"Countries have the right to choose their own destiny," Ms. Montgomery said, adding that Moldova's reform-minded demands are based on its fundamental values. Ambassador Maior emphasized that the actual implementation of Moldova's road map to reform, as outlined by the European Union, "will depend on the people." He also said that "regardless of geopolitical preferences," Moldovan people "want the same things" in their quest to establish Moldova as an just, democratic, and accountable Eastern European nation.