Roza Otunbayeva to Receive Maynes Award and Detail Her New Philanthropic Initiative
December 6, 2012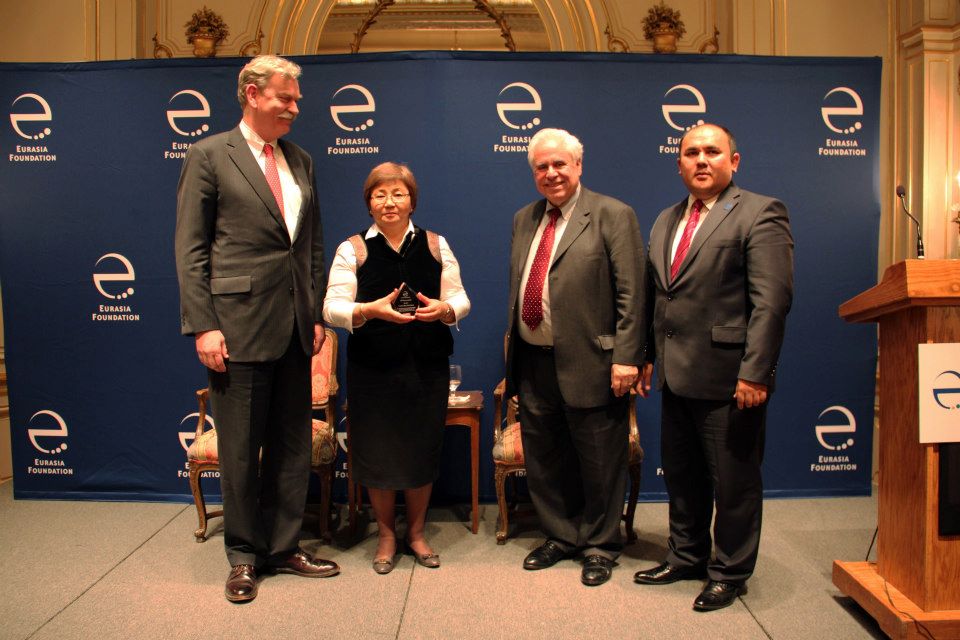 WASHINGTON, DC – Roza Otunbayeva, former president of the Kyrgyz Republic from 2010 to 2011, will detail her plans for The Roza Otunbayeva Initiative at a Eurasia Foundation-sponsored event on 13 December 2012 in Washington, DC at 4:00 pm. The event and reception will be held at the Cosmos Club, which is located at 2121 Massachusetts Avenue, NW, in Washington, DC.
President Otunbayeva will be interviewed by veteran print journalist Christian A. Caryl, a contributing editor at Foreign Policy magazine and Senior Fellow at the Legatum Institute. Caryl is a former Newsweekbureau chief in Moscow.
Eurasia Foundation will present President Roza Otunbayeva with the 2012 Bill Maynes Award for assuming responsibility for Kyrgyzstan's government at crucial points in her nation's history and demonstrating thoughtful leadership in navigating Kyrgyzstan through a constitutional transition. The Maynes Award recognizes individuals who have made extraordinary contributions to the social and economic development of their countries through the exercise of wise and courageous statesmanship.
"President Otunbayeva is an extraordinary leader. She was the first female head of state in Central Asia and the first leader to preside over a democratic transfer of power in the region. President Otunbayeva has inspired citizens in Kyrgyzstan and around the world with her public service," said Eurasia Foundation President Horton Beebe-Center.
After her term ended, President Otunbayeva founded The Roza Otunbayeva Initiative in 2011 to advance education, art, and culture and to support women and youth in Kyrgyzstan.
President Otunbayeva is accepting interview requests for 13 December 2012. Press interested in interviewing President Otunbayeva should contact Melinda Haring: [email protected] or 202-234-7370, ext. 122.
Contact: Melinda Haring
202-234-7370, ext. 122
[email protected]