Remembering Eugene ("Rocky") Staples
October 9, 2013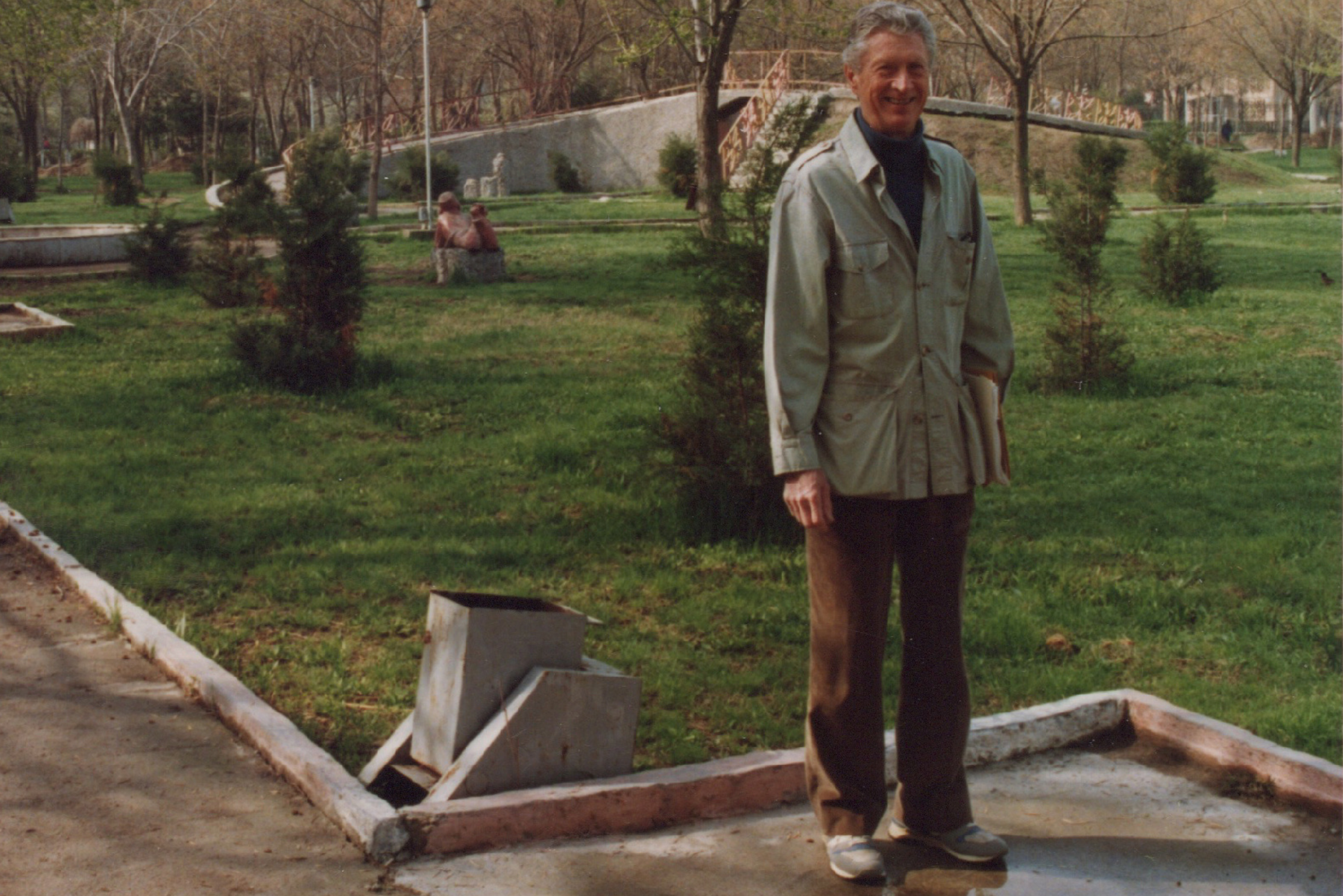 Eugene ("Rocky") Staples, 91, a founder and former president of Eurasia Foundation, WWII Marine fighter pilot, survivor of Japanese bombing of USS Franklin, and U.S. diplomat
Eugene Sheldon Staples, fondly known as Rocky by friends and family, passed away in his beloved Snug Harbor, Rhode Island home on Friday, October 4th, surrounded by family. He was 91.
Staples was a stalwart optimist who believed the world could be changed for the better, and committed himself to doing so. His passion led him to a long and storied career which spanned the fields of Marine Aviation, journalism, foreign service, international development, and philanthropy.
Staples left his railroad and farming family in Kansas City, Missouri, in 1943 to become a Marine Corps fighter pilot in WWII. Flying Corsairs in the Pacific theater, his combat missions ended on March 19, 1945, when a Japanese dive-bomber attacked his aircraft carrier, the USS Franklin, off the coast of Kyushu, killing 924 aboard, the highest number of casualties for any surviving US warship.
After the war, he worked as a UP correspondent in Mexico, then joined the US Foreign Service and served in Montevideo and Santiago. In 1959 he was sent to Moscow to help organize the great American National Exhibition, and returned there later to serve three years as Cultural Counselor at the US Embassy at the height of the Cold War. During his years in Moscow, he was able to shepherd an exchange of cultural exhibitions and programs between the US and the Soviet Union that would last until the implosion of the USSR in 1991.
He left the State Department in 1964 to join the Asia program of the Ford Foundation, and was the Foundation's representative in both Southeast Asia and South Asia, living in Thailand and New Delhi throughout the 1970s. In 1981, following his interest in the challenges of peace making and nation building, he joined the U.S. Agency for International Development, as deputy assistant administrator in the Asia bureau and subsequently becoming USAID mission director in Islamabad during the Soviet conflict in Afghanistan. In 1992, he was called out of retirement to help create and run the Eurasia Foundation, which he retired from as president in 1997. In his 2006 memoir, Old Gods, New Nations, he reflected on his long career: "Working with colleagues and local people in information and cultural diplomacy, and in a later stage on institution and nation building, I enjoyed and puzzled over the endless varieties of the human condition: how to understand it; how to try to improve it; and how we really mess up from time to time."
Fluent in Spanish and Russian, Staples was a graduate of Mexico City College. He did intensive postgraduate work in Russian at the State Department's Foreign Service Institute and the U.S. Army "Detachment R" in Oberammergau, Germany. Staples received a number of Presidential and other awards for his work, including the U.S. Agency for International Development Distinguished Honor Award. For his work in development as the AID mission director in Islamabad, the Pakistan government awarded him its highest civil award, the Quaid-e-Izam.
Perhaps most importantly, Rocky was a hero and mentor to his family and friends, and will be remembered for his steadfast character, quiet strength, and generous spirit that touched and guided all who knew and loved him. Widowed in 1978 by his first wife, Charlotte, Staples is survived by his wife of twenty years, Judy; his three children John Staples, Kathleen Staples and husband Darby Bannard, and Peter Staples and wife Paula; his grandchildren Lt. Nathan Staples, Emily Staples, Andrew Staples, and Trevor Bannard; his brother Murray Staples and sister in law Mary of Riverside, CA; and his devoted nephews Richard, David, Gregory, and niece Marysue.
Staples divided his time between Manhattan and Wakefield, Rhode Island. A memorial celebration will be held later this year. In lieu of flowers, please support the South Kingstown Land Trust, or a cultural organization of your choice. Rocky was an accomplished violinist and loved music and art.