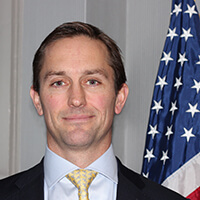 Founder, Rock Creek Advisors LLC
Willie Gaynor
Willie Gaynor founded Rock Creek Advisors, LLC in July 2010 to deliver bottom-line results to political, corporate, and entrepreneurial clients in both the public and private marketplaces. Since 2011, he has worked with political leaders including presidential candidates, governors, and members of congress, and Fortune 100 companies and small businesses. He also serves as a Senior Vice President for Development at EnTrustPermal LLC, a $25 billion investment firm based in New York that focuses on alternative investments.
In 2016-2017, Gaynor served as the director of the presidential transition for the U.S Department of Commerce. From 2005-2010, Gaynor served as a senior advisor to The Ashcroft Group, covering state, federal, and international relations, private equity and finance, homeland security and law enforcement, transportation and infrastructure partnerships, and business development.
Before joining The Ashcroft Group, Gaynor served in President George W. Bush's administration and presidential campaigns. As deputy director in the Office of Business Liaison at the Department of Commerce, he focused on corporate and grassroots outreach, economic, tax and trade policy, and legislative strategy.
In 2005, Gaynor was the finance director for the 55th Presidential Inaugural Committee after having served as finance director for the western U.S. for President Bush's 2004 re-election. In 2000, he helped raise a then-record $100 million for Bush's first presidential election.
Gaynor earned an MBA at Georgetown University and a BA in political science from Brown University.