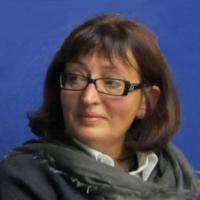 Valeria Klitsounova
Valeria Klitsounova is Chairwoman of Country Escape, the Association for Rural and Ecotourism in Minsk, Belarus. She is a specialist in rural economic development and has nearly 15 years of experience supporting the growth of small businesses in the regions of Belarus. Ms. Klisounova's advocacy efforts were instrumental in passing national legislation simplifying the operating environment for small businesses in Belarus.
Eurasia Foundation helped establish Country Escape by providing the association with its first grant in 2003. The association unites the efforts of more than 600 members, including teachers, farmers, economists, pensioners and youth from across Belarus, in creating a viable rural tourism sector and the jobs and business opportunities that accompany it.
In addition to her work at Country Escape, Ms. Klitsounova is director of the Center for Agro and Ecotourism Development, an agricultural and ecotourism business incubator. She also is a senior lecturer at Belarus State University where she instructs students in marketing, advertising, public relations and ecotourism. She has also worked on programs with the UNDP, OSCE, the US Embassy and the European Commission.
Ms. Klitsounova received her PhD in agricultural science and her undergraduate degree in geography from Belarus State University. She is fluent in English, Russian and Belarusian.