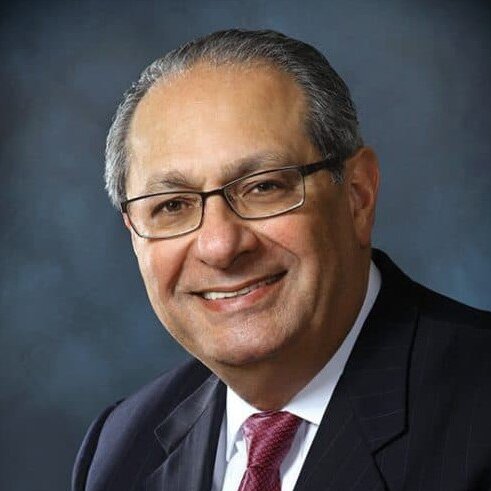 President and CEO, AMIDEAST
The Honorable Theodore H. Kattouf
Ambassador Theodore Kattouf was born in Altoona, Pennsylvania. Upon graduating from the Pennsylvania State University in 1968, he served for 3 ½ years in the United States Army infantry, attaining the rank of captain. He joined the Foreign Service in 1972.
From 1973 to 1975, Kattouf served in Kuwait as an economic and commercial officer. Following Kuwait, he attended the Foreign Service Arabic language program in Beirut and Tunis before being assigned as a political officer to Damascus. Kattouf then returned to the United States to serve as a Middle East analyst in the State Department. From 1980 to 1982, he worked as an International Relations Officer in the Department's Near East Bureau. In 1982-83, Kattouf was a State Department mid-career fellow at Princeton University.
From 1983 to 1986, Kattouf served in Baghdad as deputy chief of mission. He then served in Sanaa, one year as deputy chief of mission, and one year as Chargé d'Affaires, a.i. Kattouf returned to the United States in 1988 to serve as deputy director and subsequently director of the Office of Lebanon, Jordan, and Syrian Affairs. In 1992, he returned overseas, first as deputy chief of mission in Damascus, then as deputy chief of mission in Riyadh, where he served from 1995 to 1998.
President Clinton nominated Kattouf as Ambassador to the United Arab Emirates and was confirmed by the Senate in September 1998. He was then nominated by President Bush as Ambassador to Syria and confirmed by the Senate in August 2001. On September 2, 2003, he became president and chief executive officer of AMIDEAST.
During his career Ambassador Kattouf has received the Cobb Award for outstanding advocacy efforts on behalf of U.S. companies abroad, two meritorious honor awards, four senior performance awards, and one Presidential honor award. He was also named runner-up as DCM of the Year for 1996. He speaks English and Arabic. He is married to Jeannie (Ajay) Kattouf and has one daughter and three sons, Jennifer, Jonathan, Paul, and Michael. He is also the proud grandfather of four boys.