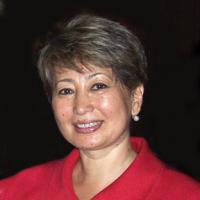 Roza Abdullayeva
Roza Abdullayeva, founder and CEO of Bereke, has extensive experience in civil society development with a strong focus in the fi elds of gender equality, labor migration and youth skills development.
In 2005, Roza founded the NGO Bereke in the southern Kazakhstan city of Shimkent. Since its creation, Bereke has expanded to include three community centers that provide assistance to underserved populations. The centers initially focused on gender equality and youth issues and have since expanded their scope to include legal support and outreach to labor migrants and local farmers.
Prior to founding Bereke, Roza was a community mobilization offi cer for Community Investment Councils, a U.S. government-funded project in Kazakhstan. There she provided trainings to local NGOs, government authorities and private organizations on gender equality, confl ict prevention and community mobilization. In addition to her work in the NGO sector, Roza has more than ten years of experience teaching English as a foreign language and received a B.A. in English Language Instruction at the Almaty Teachers Training Institute.