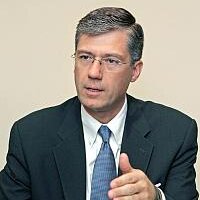 Senior Qualitative Research Analyst and Co-Portfolio Manager, Diamondback Advisors LLC
Peter Derby
Peter Derby is currently a private investor managing personal funds invested in real estate and the capital markets. He serves on the board of Diamondback Capital Management (a Connecticut-based hedge fund) and is in the process of launching The Concinnity Group, a capital management company that follows investment strategies based on a collaborative stakeholder relationships business model.
Prior to this, Derby served as the managing executive for operations and management in the office of the chairman at the United States Securities and Exchange Commission from March 2003 until August 2005. He participated in founding the first private Russian bank to receive an international banking license and served as DialogBank's first CFO in 1990. He was then elected president and CEO from 1991 to 1997 and chairman from 1997 to 1998. In 1990, to facilitate the development of capital markets in Russia, Derby founded Troika Dialog, Russia's first investment bank and the leading investment bank in the domestic capital markets. He served as president and CEO of Troika Dialog from 1991 to 1996 and chairman from 1996 to 1997.
Derby was a founding member of the board of the Moscow Interbank Currency Exchange (MICEX) and of the Expert Council for the Federal Commission on Securities of the Russian Federation. He was also a member of the board of directors of the American Chamber of Commerce, Russia; a member of the Antimonopoly Committee for the Protection of Consumer Rights; a member of the Hard Currency Controls and Regulations Committee of the Central Bank of Russia, and a member of the Finance Ministry's Capital Markets Committee.
Prior to his decade in Russia, Derby was an auditor at Chase Manhattan Bank, New York, from 1983 to 1985. In 1985, he joined National Westminster Bank USA, New York, where he served as corporate finance officer in the mergers and acquisitions/project finance division until 1990.
Derby received his bachelor's degree from New York University (NYU) in 1983, majoring in accounting, finance, and international finance. In 1988, he assisted a professor in teaching a course in real estate finance at NYU's Graduate School of Business.