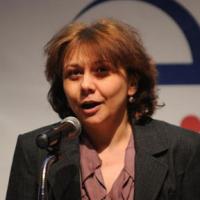 Nouneh Sarkissian
Nouneh Sarkissian is the Managing Director of Internews in Armenia and has a wide-ranging background in broadcast journalism and independent media.
Nouneh is a member of the Union of Journalists of Armenia and serves on the board of the Yerevan Press Club. Nouneh worked as reporter, editor and producer at Armenia's first independent news production studio, A1+, where she was instrumental in creating two additional television networks.
Nouneh is an associate of Eurasia Partnership Foundation (EPF) and she is presently implementing an Armenia-Azerbaijan media bias reduction project. From 2004-2009, she helped implement the EPF-funded Workshop at the Crossroads program, a collaboration between young journalists and film directors from the South Caucasus. EPF will be working with Nouneh and her Internews colleagues over the next four years to deliver the USAID-funded ARMedia program, which will focus on the difficult environment facing Armenian media outlets.