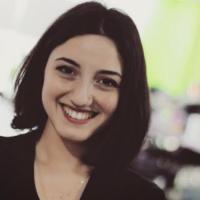 Nino Nanitashvili
Nino Nanitashvili is currently the Head of Communications at the International School of Economics at Tbilisi State University (ISET) and Lead Advisor in the South Caucasus of the NGO Elva. Growing up in Georgia in the turbulent 1990s, Nino dedicated her career to peacebuilding and development through evolving technologies. While Nino began her path in civic engagement and volunteering in her teenage years, she first pursued peacebuilding through tech in 2012 by founding the first technology-oriented professional community in Georgia:  Google Developer Group (GDG) in Tbilisi. After joining Elva in 2014, she directed the project "Building Peace Through Online Gaming," supported by the EU-UNDP Initative COBERM.
Through the project, Nino helped to connect Georgian and Abkhaz youth, long separated by conflict. One video game developed in the project, Peace Park, has been downloaded over 10,000 times and achieved international recognition. Nino now oversees Elva's new project aimed at bringing STEM education to rural Georgia. Nino also leads the Women Techmakers Community in Tbilisi, an initiative supported by Google, and serves as a mentor for tech startups and social entrepreneurs in her country. Nino has spoken on her technology-driven civic initiatives at Google Headquarters, the parliament of Georgia and TEDxYouth@Tbilisi.
With a background in sociology, Nino is currently pursuing a Master's in Public Policy Administration at Ilia State University and has participated in educational exchange programs in the United States, the Netherlands, Egypt and Cyprus.