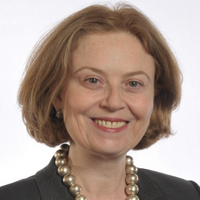 Advisor, Verizon Business
Mira Davidovski
Mira Davidovski is an international development and emerging markets advisor with regional experience in Asia, Russia and the CIS, Africa, and the Middle East. She advises Verizon Business on legal matters in emerging markets, including Russia, ranging from commercial contracting to internet censorship and regulation.
Davidovski served as Senior Counsel at the Asian Development Bank in Manila on public and private sector projects in India, China, Vietnam, Bangladesh, Nepal, Mongolia, and the South Pacific, among others. She participated as Observer at meetings of the Asia-Pacific Group (FATF) on anti-money laundering policy. As a Partner with Salans in Moscow, London, and Paris, she advised multinational corporate clients, private banks, investment advisors, and development finance institutions on structuring, implementation, and operations of complex investments and cross-border transactions in frontier and emerging markets, as well as on multijurisdictional investment disputes. At Dentons, she advised on projects and matters in Zambia, Angola, Rwanda, Nigeria, Kenya, Kyrgyz Republic, Ukraine, and Kazakhstan.
Davidovski advised the European Bank for Reconstruction and Development on its flagship Small Business Fund project for Russia and the Caucasus from 1994 to 2007. She also advised the Government of the Kyrgyz Republic on its first public-private partnership in 2017 and the State Department SPV for the U.S. Pavilion at Expo 2017 in Nur-Sultan, Kazakhstan. On a pro bono basis, she has advised the PPP Unit of Zambia and Human Rights First on matters relating to the Global Magnitsky Act.
Davidovski earned her undergraduate degree from Harvard University in government cum laude with a minor in Russian language and her law degree with honor from the University of Maryland. Admitted to the bar in Maryland and the District of Columbia, she was admitted to the Roll of Solicitors in England and Wales in 2006. She is fluent in French and Russian.