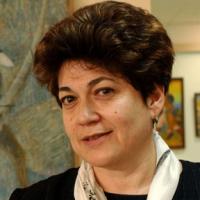 Marinika Babanazarova
Marinika Babanazarova is the director of the Savitsky Karakalpakstan Art Museum in Nukus, Uzbekistan, which hosts the second largest collection of avant-garde Russian art in the world and is recognized as one of the premier art institutions in the Eurasia region. Its collection of about 90,000 items includes Soviet-era paintings and sculptures as well as textiles and jewelry from the ancient Khorezm civilization and contemporary works from Uzbek and Karakalpak artists.
Over the last 25 years, Ms. Babanazarova's efforts have resulted in establishing the museum as an international art attraction drawing tourists from around the world to Nukus. The museum has been featured in the New York Times and documented in the film "The Desert of Forbidden Art."
Ms. Babanazarova has leveraged the success of the museum to support the broader community in Nukus and Karakalpakstan and has worked with international donors to support art
education, rural crafts and gender equality projects.
Ms. Babanazarova holds a degree in art history from the Tashkent Art Institute and graduated with honors from the Tashkent State University faculty of Romance and Germanic studies. She received specialized museum management training at the Louvre and the British Museum.