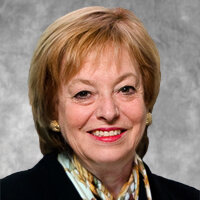 Executive Chairman, APCO Worldwide Inc.
Margery Kraus
Margery Kraus is executive chairman of APCO Worldwide, a global consulting firm headquartered in Washington, DC, and specializes in public affairs, communication, and business consulting for major multinationals.
As a founder and former CEO, Kraus developed APCO into a multinational consulting firm, one of the largest privately owned communication and public affairs firms in the world. Her achievements have been recognized through a number of prestigious awards, including being named to the Enterprising Women Hall of Fame (2009), the Ernst & Young Entrepreneur Of The Year Award in the Services category in Greater Washington (2006), Washington PR Woman of the Year (2006), Lifetime Achievement (PR News, 2005), PR Professional of the Year (PRWeek, 2005), and Best Entrepreneur-Service Businesses-up to 2,500 Employees (Stevie Awards for Women Entrepreneurs, 2005), among others. Kraus was also named one of 25 "Top Women Business Builders" (Fast Company, 2005), one of 50 Most Powerful Women in PR (PRWeek, 1998), and one of 50 "Women Who Mean Business" (Washington Business Journal, 2004).
Kraus specializes in providing strategic counsel on issue-based communication, crisis management, market-entry, and corporate reputation across diverse industry groups. She pioneered one of the industry's earliest practices in corporate responsibility and the development of public/private partnerships.
Prior to starting APCO, Kraus assisted in the creation and development of the Close Up Foundation. She is chairman of the board of the Women Presidents' Organization, Northwestern Mutual Life, Arthur W. Page Society, Catherine B. Reynolds Foundation, and the Institute for Public Relations. Kraus is on the advisory board for GML Limited, on the board of directors of the Council of Public Relations Firms, and a past chairman of the Public Affairs Council. She serves as a trustee of American University and is on the advisory boards of the Council on American Politics of George Washington Graduate School of Political Management and the J.L. Kellogg Graduate School of Management at Northwestern University.
Kraus is the author of numerous articles in the fields of public affairs management and corporate reputation and has been a guest lecturer throughout the world. She holds a B.A. and M.A. in political science and public law from American University.