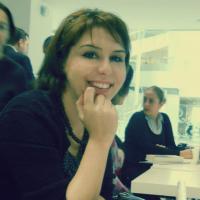 Gayane Mirzoyan
Gayane Mirzoyan, a media expert with the nongovernmental organization Journalists for the Future, is the founder of Armenia's first hyperlocal news platform, TaghInfo. From a very young age, Gayane knew she wanted to write about "small things that matter to people."
Beginning with a grant from Eurasia Partnership Foundation, TaghInfo (tagh means "quarter" in Armenian) is a crowd-sourced site that provides real-time news in Armenia. Gayane came up with the project during the 2011 Mardamej Social Innovation Camp organized by the Eurasia Partnership Foundation and launched the site in July 2012.
TaghInfo aggregates local reporting from the different districts of Yerevan on social, environmental, cultural and educational issues. In addition to the online portal, TaghInfo holds training workshops for young citizen-journalists.
Gayane also serves as a media mentor with Media Neighborhood, a project that offers world-class training to over 1,200 journalists across 17 EU countries in three years. The project is funded by the EU and managed by BBC Media Action.