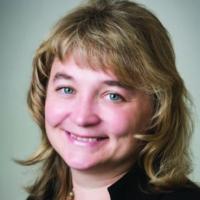 Elena Dmitrieva
Elena Dmitrieva is the director of the Health and Development Foundation, an NGO that develops and implements health communication and health system improvement projects in Russia. Dr. Dmitrieva also serves as the head of the Johns Hopkins Bloomberg School of Public Health in Russia.
Dr. Dmitrieva is an expert in public health programs, with an emphasis on reproductive health, drug and HIV/AIDS prevention, and youth risk behavior. The Health and Development Foundation's most recently introduced program, TEXT4BABY, provides expectant and new mothers with important information about their health and the health of their baby, communicated via text message. Dr. Dmitrieva has been instrumental in both the implementation of the program and its publicity.
In 2013, Dr. Dmitrieva and the Health and Development Foundation received a grant from Eurasia Foundation to collaborate with an American partner on "mHealth," public health campaigns implemented over mobile devices. Dr. Dmitrieva also serves as co-chair of the U.S.-Russia Social Expertise Exchange's Public Health Working Group, whose current project focuses on the health of migrants in both the United States and Russia. Dr. Dmitrieva holds a Doctorate of Science (2004), Candidate of Sciences (1996), and Diploma of Honor (1993) in Sociology from Lomonosov Moscow State University (LMSU). She currently teaches sociology of health and health communication at LMSU.