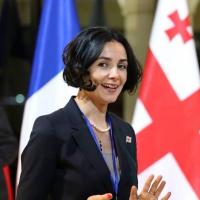 Ecaterine Siradze-Delaunay
Ekaterine Siradze-Delaunay is the Executive Director of the International Society for Fair Elections and Democracy (ISFED), a leading Georgian NGO that monitors the election process and serves as a watchdog in assessing the government's transparency and accountability.
ISFED played a central role in monitoring and evaluating the results of the recent Georgian Parliamentary elections in May 2008. In the run-up to the 2003 Rose Revolution, the documentation of voter fraud noted by ISFED provided the legal basis for repeat elections.
Ecaterine also has an extensive background working as an election observer, both in Georgia and abroad, including as a long-term election observer during the Moldovan elections in the summer of 2007. Ecaterine received her undergraduate degree from the Technical University of Georgia and obtained a master's degree in Crisis Analysis and Prevention from the University of Paris.