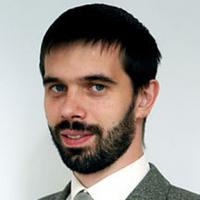 Dr. Denys Nizalov
Dr. Denys Nizalov is the academic director of the Kyiv School of Economics (KSE) in Ukraine. A practicing economist, Dr. Nizalov received his training in the US and Ukraine and is among a growing number of Ukrainians who, after acquiring academic credentials abroad, have returned home to educate the country's next generation.
KSE is a legacy institution of the Economics Education Research Consortium, an initiative launched by Eurasia Foundation in 1995. KSE offers internationally recognized Master's degree programs in economics and ranks among the top graduate programs in Central and Eastern Europe. Its graduates have gone on to earn admission to leading graduate programs in the US and UK as well as top jobs in consulting and finance in Ukraine.
Dr. Nizalov joined KSE in 2006 as a senior economist. Since being named KSE's academic director in 2010, he is responsible for managing the school's strategic development and supervising its transition from a faculty of visiting foreign professors to one that is almost entirely Ukrainian. Dr. Nizalov also teaches graduate courses in microeconomics, econometrics, economics research and policy analysis.
Dr. Nizalov holds an MS and PhD in agricultural economics from Michigan State University and a BS from Ukrainian State Maritime Technical University.