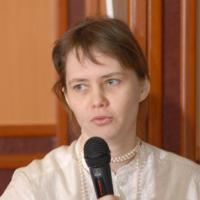 Anna Koshman
Anna Koshman is the Executive Director of the Russian Alliance of Independent Regional Publishers (AIRP), which unites independent newspaper publishers to protect their rights and interests, support freedom of the press in Russia and establish publishing standards.
AIRP currently includes 45 publishing houses from all corners of Russia, and the organization aims to double its membership in the next few years. AIRP's essential role in ensuring the quality of independent media in Russia, its capacity to act as a unified voice for regional independent media and its ability to attract international attention to the cause of preserving freedom of speech in Russia's current political climate all contributed to Anna's selection as one of the first Bill Maynes fellows.
Prior to her current position, from 2003 to 2007, Anna served as the director of the Interregional Institute of Media-Consulting. She completed her undergraduate degree in Sociology at St. Petersburg State University and her doctorate degree in Political Science at the Moscow State Institute of International Relations.