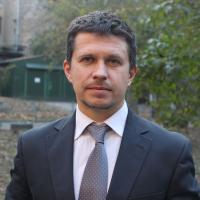 Andriy Skipalskyi
Andriy Skipalskyi is Chairman of the Board of Life Regional Advocacy Center, a Kiev-based non-profit NGO that provides advocacy and tobacco control expertise nationally and regionally. Mr. Skipalskyi successfully advocated for two tobacco control laws and the placement of graphic images of the effects of smoking on cigarette packages.
Before joining the Life Center, Skipalskyi worked on media NGO capacity building at Internews Network. His interests include the anti-tobacco movement, media, civil society, social entrepreneurship, and corporate social responsibility.
Skipalskyi graduated from the Institute of Finances and Economics at the Taras Shevchenko National University of Kyiv and holds an MBA from the International Management Institute (Ukraine-Switzerland). He is fluent in Ukrainian, Russian, and English.