Introducing Eurasia Foundation's 2013-2014 Young Professionals Network
July 9, 2013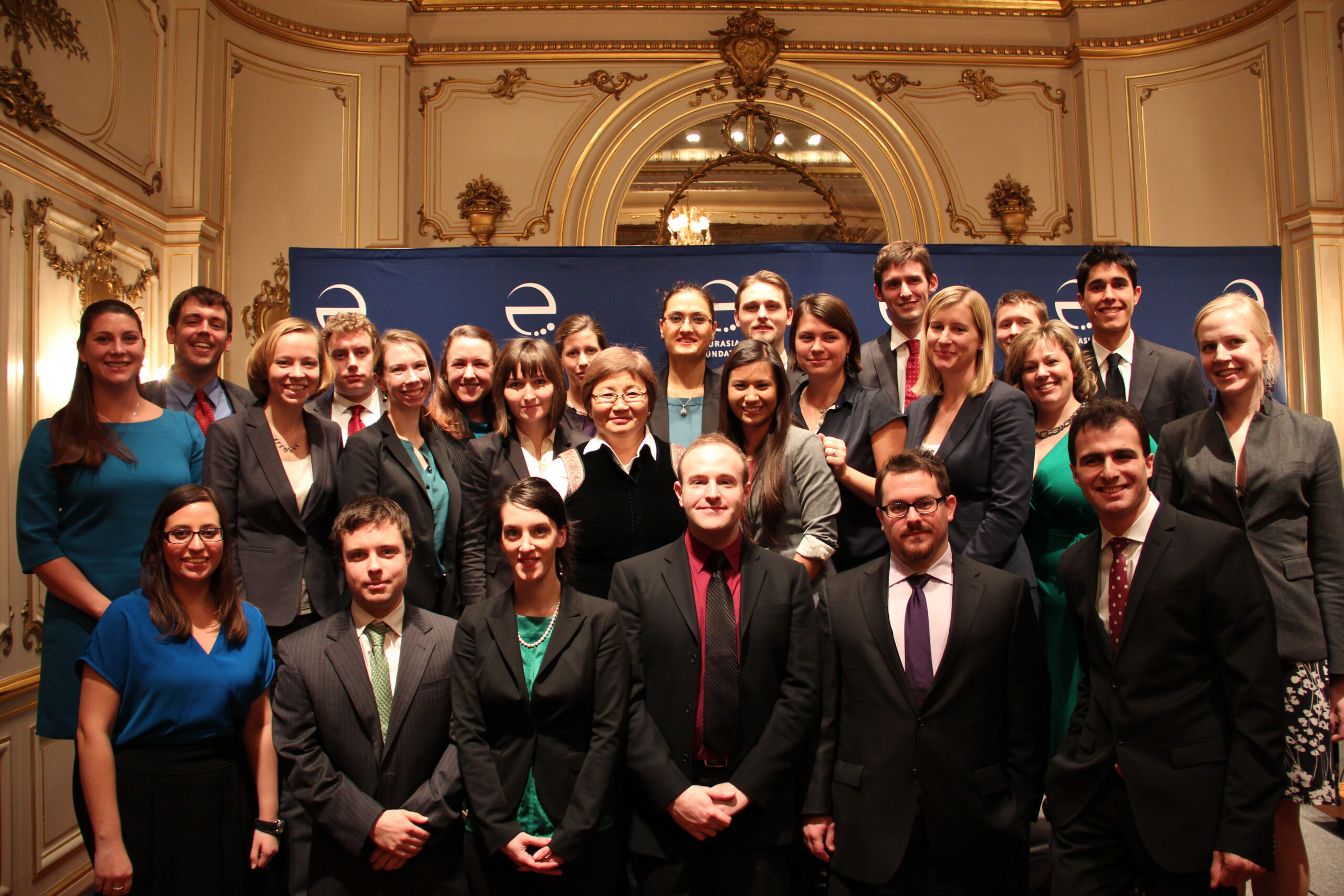 Eurasia Foundation is proud to announce the 2013-2014 class of the Young Professionals Network. YPN is part of Eurasia Foundation's efforts to cultivate the next generation of professionals working on the Eurasia region. This class includes a diverse group of 26 outstanding participants from a variety of backgrounds in government, non-profits, the private sector, media, academia, and the U.S. military.
The Young Professionals Network was created to offer an opportunity for young professionals in Washington to engage in thoughtful conversations on developments in the Eurasia region and hear from policy experts and experienced practitioners.


The 2013-2014 Young Professionals Network:
Aanchal Anand, Junior Professional Associate, World Bank
Daniel Balson, Program Officer, National Democratic Institute
William Beaver, Manager of Membership and Programming, U.S.-Russia Business Council
Zoya Bozhko, Associate, Shearman & Sterling LLP
Michael Cecire, Associate Scholar, Foreign Policy Research Institute
Alexa Chopivsky, CEO, Transnational Education Group
Endrit Demi, Country Assistance Coordinator, U.S. Department of State
Malina Dumas, Program Associate, Volunteers for Economic Growth Alliance
Katie Earle, Research Assistant, American Enterprise Institute
Tamara Grigoryeva, M.A. candidate, American University
Orly Keiner, Foreign Affairs Officer, U.S. Department of State
Matthew Kupfer, Junior Fellow, Carnegie Endowment for International Peace
Gina Lentine, Assistant to the Vice Presidents, National Endowment for Democracy
Yael Levine, Researcher, Eurasia Group
Sarah Lillibridge, Program Assistant, National Endowment for Democracy
Ilya Lozovsky, Program Officer, Freedom House
Sung in Marshall, Research Assistant, Center for Strategic and International Studies
Mimi McClatchy, Programmer Analyst, Computer Sciences Corporation
Kristina Mikulova, Consultant, World Bank
Roman Muzalevsky, Security Analyst, iJet Intelligent Risk Systems, Inc.
Yana Ovshieva, M.A. candidate, American University
Susannah Powell, Contractor, Mesmo, Inc
Yulia Savchenko, International Broadcaster, Voice of America
Nate Schenkkan, Senior Program Assistant, Freedom House
Vitaliy Shpak, M.A. candidate, University of Maryland College Park
Catherine Trainor, Research Assistant, Brookings Institution
About the program
The Young Professionals Network is one element of the Sarah Carey Program, which also consists of an annual award and a symposium. Sarah Carey was the long serving chair of Eurasia Foundation's board of trustees. Her connection to the Eurasia region spanned more than 50 years, and she was an indispensable advisor to policymakers and young people interested in the region. The Sarah Carey Program is financed entirely by private donations.