Eurasia Foundation Thanks Board Chairman Jan Kalicki For His Service and Welcomes Ambassador William Courtney as New Chairman
October 24, 2018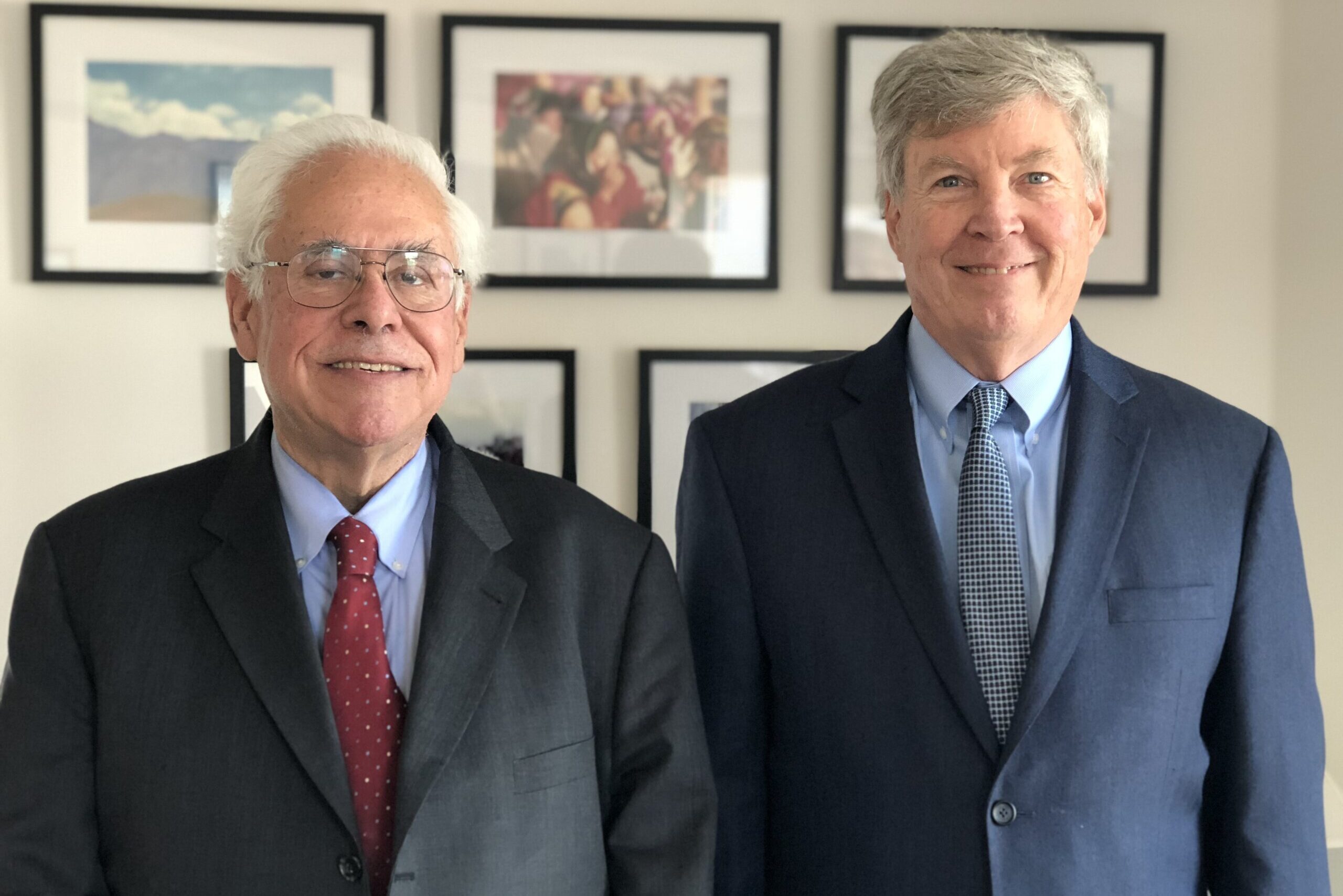 Eurasia Foundation announced today that the board of trustees chairman, the Honorable Jan Kalicki, stepped down this week at the end of his term and is succeeded by Ambassador William Courtney. The board named Mr. Kalicki as chairman emeritus.
A senior fellow at the Woodrow Wilson Center for International Scholars and Kennan Institute, Mr. Kalicki joined the board of Eurasia Foundation in 2006 and has served as chairman since 2010. Mr. Kalicki brought to Eurasia Foundation an extensive background in government, finance, and academia – including experience as counselor to the Commerce Department, senior vice president at Lehman Brothers, and teaching positions at the London School of Economics and Brown University. Under his leadership, Eurasia Foundation completed its localization strategy to transform field offices into locally chartered institutions, which now collectively comprise the Eurasia Foundation Network. The Foundation also expanded its community development work into the Middle East and China. Mr. Kalicki will remain on the board of trustees and on its executive committee.
"It has been a tremendous honor to serve as chairman of Eurasia Foundation as we have grown over the last decade – from a grant maker to a project implementer that now operates programs beyond Eurasia in the Middle East and China," said Mr. Kalicki. "I am proud of the accomplishments of the great EF staff and board and excited to remain a part of the next phase of the Foundation's development."
Ambassador Courtney, who joined Eurasia Foundation's board of trustees in 2017, was elected as chairman at the board's annual meeting this week. Ambassador Courtney brings to the position more than 30 years of expertise in diplomacy and foreign relations with a focus on the former Soviet space and arms control. From 1972 through 1999, he was a career foreign service officer at the U.S. Department of State, where he served as ambassador to Georgia, Kazakhstan, and the U.S.-Soviet Bilateral Consultative Commission to implement the Threshold Test Ban Treaty. He served abroad in Brasilia, Moscow, Geneva, Almaty, and Tbilisi. Currently, Ambassador Courtney is an adjunct senior fellow at the RAND Corporation. He is a member of the Council on Foreign Relations, where he was an international affairs fellow, and a member and former member of the boards of directors of the World Affairs Council of Washington, D.C., and the American Academy of Diplomacy.
"Eurasia Foundation is remarkably effective in connecting the citizens of Eurasia and the Middle East to partners in the U.S. who are working together to improve governance and strengthen civil society," said Ambassador Courtney. "It is a distinct honor to serve as part of the team leading the Foundation at a time when these goals are so important to U.S. foreign policy and to our partners around the world."
Dan Witt, president of the International Tax & Investment Center, will continue to serve as vice chairman. The Honorable Richard Morningstar, founding director of the Global Energy Center at the Atlantic Council, former U.S. ambassador to the Republic of Azerbaijan and the European Union, and former special assistant to the president and secretary of state for assistance to the New Independent States, will succeed the Honorable Margaret Milner Richardson as treasurer. She is also stepping down from the board of trustees after 16 years of distinguished service. New trustee Adnan Kifayat will serve as secretary. He is a senior fellow at the German Marshall Fund of the United States and head of the global security program at the Gen Next Foundation, which he joined after a 16-year career in public service at the U.S. Department of the Treasury, U.S. Department of State, and the White House.
"This is an outstanding team to lead Eurasia Foundation to its next phase of development and success!" said Mr. Kalicki.
In addition to the changes in board leadership, Eurasia Foundation welcomes new trustees Susan Reichle, former USAID counselor; Susan Thornton, a retired senior career diplomat who is former acting assistant secretary of state for East Asian and Pacific affairs; and former U.S. ambassador to Serbia and career senior diplomat Mary Burce Warlick.
Eurasia Foundation also thanks and wishes a fond farewell to two dedicated and generous trustees: Drew Guff, managing director of Siguler Guff and Company, and Angela Stent, professor of government and director of the Center for Eurasian, Russian and East European Studies at Georgetown University.