Eurasia Foundation Partners with Polaris to Fight Human Trafficking Through Data and Information Sharing
April 5, 2021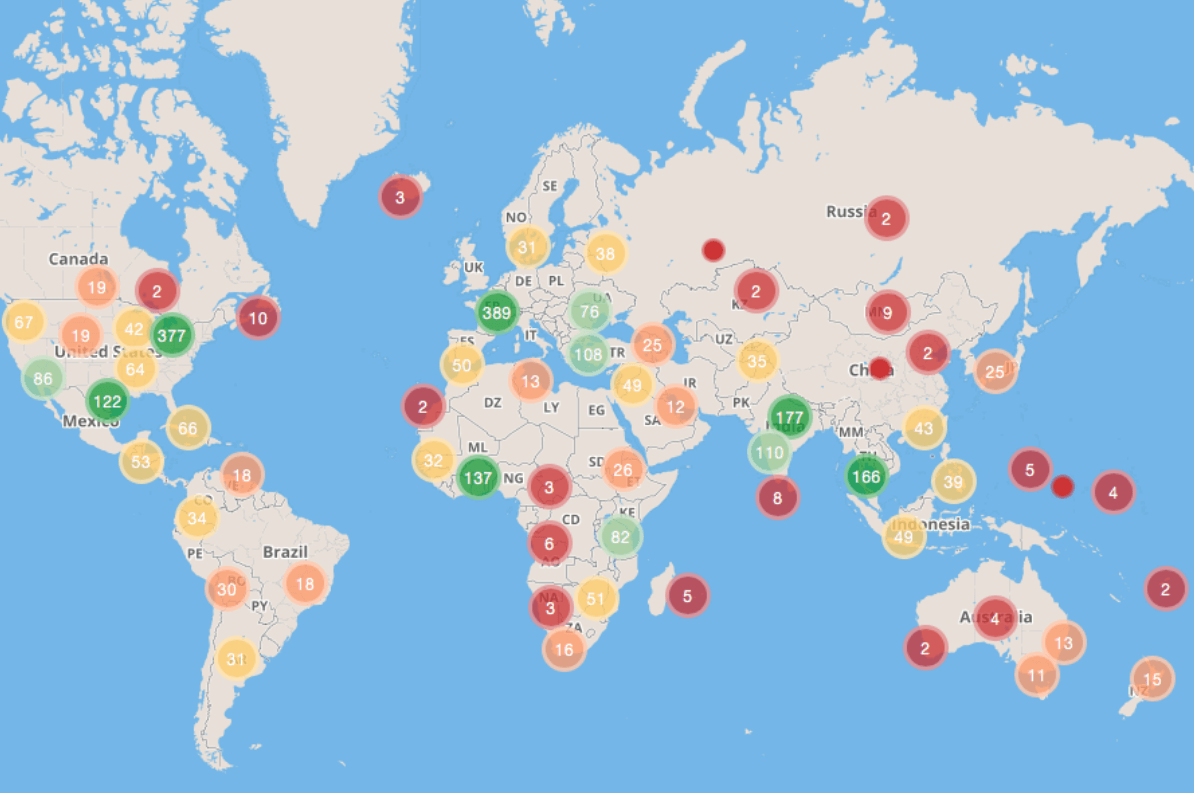 Eurasia Foundation (EF) is proud to announce a new partnership with Polaris, a leading organization in the global fight against human trafficking. Together, EF and Polaris will ensure survivors and anti-trafficking service providers can better identify local resources and connect with one another via the Global Modern Slavery Directory (GMSD), in the Eurasia region and beyond.
Since 2014, Polaris has managed the GMSD, an interactive, publicly searchable map and database of organizations and hotlines working to combat trafficking in persons (TIP) and forced labor worldwide. The GMSD is the most comprehensive database of modern slavery organizations; to date, it includes over 2,600 organizations across 197 countries. The tool enables actors in the anti-TIP field to identify fellow service providers, NGOs, government entities, and law enforcement bodies in their region, and to coordinate efforts. The comprehensive database also allows stakeholders to observe gaps in services and respond accordingly. Critically, it enables victims of human trafficking and at-risk populations to access information and support wherever it is available.
Through this partnership, EF will work with Polaris to ensure that the GMSD has the most relevant and updated information about anti-trafficking resources in the countries in which EF works.
"Human trafficking is a global issue that demands a global response," says Lisa Coll, EF president. "Eurasia Foundation is proud to work with Polaris to link anti-TIP stakeholders throughout Eurasia with each other and with their counterparts around the world. This collaboration will fill crucial gaps in the global safety net."
Since 2005, EF has implemented numerous projects to promote safe migration and effective repatriation throughout Eurasia. Between 2006 and 2007, EF established five Labor Migrant Resource Centers in the Kyrgyz Republic and six Migration and Return Resource Centers in Armenia. EF also established a labor migrant hotline service in Russia in 2011. Between 2011 and 2014, EF provided over 43,000 legal consultations to vulnerable populations, trained more than 1,700 civil society leaders and government representatives in access to justice issues, and cultivated a network of 150 service providers and advocacy organizations across Central Asia.
Since 2018, EF has helped civil society organizations (CSOs) throughout Central Asia to combat human trafficking and to meet survivors' legal, psychosocial, and reintegration support needs. EF collaborates closely with local CSOs to develop individualized multi-year strategies and plans, to train and provide professional support to staff, and to organize regional workshops and forums. It has also cultivated a robust regional anti-TIP CSO network, which meets regularly to collaborate on this intrinsically cross-border issue. In the past six months alone, EF's anti-TIP network has supported the reintegration of over 30 trafficking victims and provided legal assistance to 11 labor migration cases.
"Low transparency and communication among anti-trafficking stakeholders hampers their efforts to combat the complex forces behind this issue," says Mekhribon Abdullaeva, EF Civic Engagement and Governance Program Manager. "This partnership means that EF's Eurasian anti-TIP network will be publicly accessible in a single digital database. Stakeholders, survivors, and potential victims will be better able to find and meaningfully connect with one another, in Eurasia and beyond. We are proud to contribute."
Adds EF Program Associate Sitora Rozikova, who was instrumental to the partnership: "We are one step closer to ensuring every victim of trafficking can reach out for help—and find it—no matter where they are in the world."
Eurasia Foundation is a nonprofit international development organization committed to the idea that societies function best when people take responsibility for their own civic and economic prosperity. EF's programs help small businesses become more successful, governments more responsive and accountable, and civic organizations more effective and resilient. EF has offices and programs in the Eurasia region, the Middle East, and China. Follow us on Twitter, Facebook, Instagram, and LinkedIn.
For inquiries related to Eurasia Foundation, please contact Communications Officer Julia McLean at [email protected].