Eurasia Foundation Honors the 2013 Bill Maynes Fellows
December 11, 2013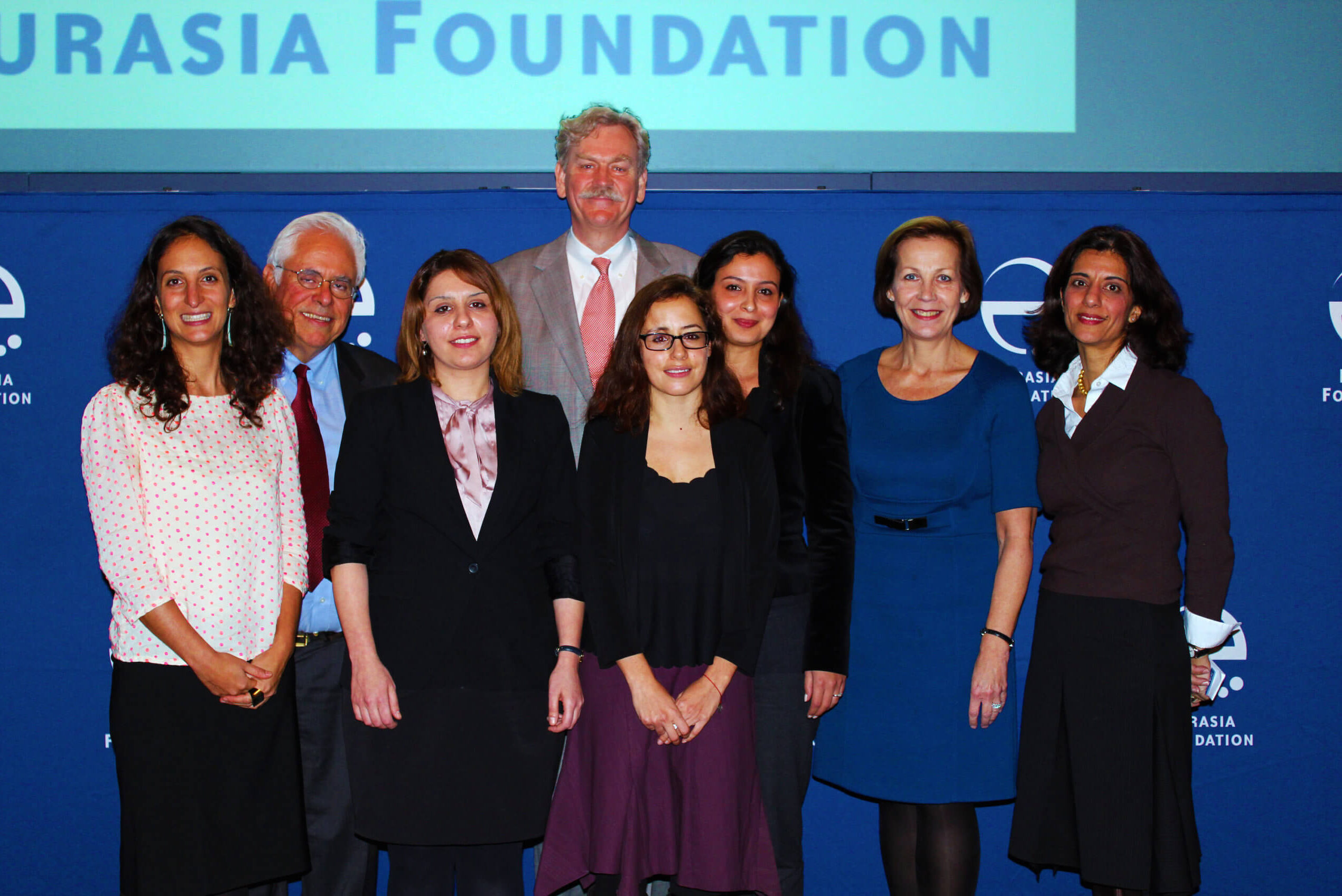 On December 4, Eurasia Foundation honored the 2013 Bill Maynes Fellows at the Embassy of Finland in Washington, DC. Burcu Becermen of Turkey, Gayane Mirzoyan of Armenia, and Emna Ben Yedder of Tunisia took the stage to talk about their efforts to improve civic engagement and media rights in their countries. Over the course of their discussion, the fellows covered a wide range of issues, from women's role in politics and civil society, the trajectory of reforms in their countries and how the international community might support both.
The evening began with some introductory remarks by Paige Alexander, Assistant Administrator of the Bureau of Europe and Eurasia at the U.S. Agency for International Development. USAID has made the empowerment of women one of its primary goals, and the three women on stage exemplified their efforts to make society more inclusive and free.
An engaging discussion followed, moderated by Sanam Naraghi Anderlini. Ms. Anderlini is one of the world's foremost experts on gender and security: she co-founded the International Civil Society Action Network and is a senior fellow at the M.I.T. Center for International Studies. She began the conversation by asking the fellows about how they conceive of their work.
Burcu Becermen, who works on Turkey-Armenia relations for the Hrant Dink Foundation, spoke about the challenges of fostering reconciliation and educating both Turks and Armenians about each others' countries. "The two countries disagree on history," she explained, to highlight how each views the treatment of ethnic Armenians in 1915. Bridging that divide is difficult, she explained, because of the closed border and the lack of diplomatic ties between the two countries. But, through exchanges of journalists and scholars, she is trying to help them learn about each other.
Ms. Mirzoyan added, "I used to think freedom of speech was my challenge, but now it is quality, with too much poor information out there." Education is the only way social attitudes will ever change.
Increasing women's access to politics and influence is a challenge all three women face. "Women make up eighty percent of civil society in Tunisia," Emna Ben Yedder, who founded the Bus Citoyen project in Tunis, explained. "But men are mostly in politics."
As a result, she said, "Today we still have to fight for things that are obvious," like the right to be treated as an equal in society.
Eurasia Foundation's Director of Middle East and North Africa Programs, Maryam Abolfazli, added that full participation of both genders is critical for the long term health of society. "Having half the population respected by the other is a vital part to building democracy," she said. As an example, she described a woman in Iran who owns her own apartment and lives without any male relatives. Many of her neighbors don't approve of this independent arrangement: "even going to the grocery store is a daily war."
Even where women are formally educated, it can be difficult for them to gain widespread acceptance. Gayane Mirzoyan noted that girls and women have easy access to school, but, "getting people educated about women is still a challenge." As a result, they still face bias and discrimination in daily life.
Ms. Anderlini expanded on these comments. "So much international focus is on women's economic empowerment," she told the crowd, "but we spend very little time empowering women legally and culturally."
Ms. Ben Yedder agreed. "The main issue is something linked to patriarchal societies," she explained, "where the first value is not freedom but honor." If a man sees protecting a woman's honor as his primary duty, her freedom will often be disregarded. "Until men realize women can defend their honor themselves, we'll be trapped by this attitude."
But it isn't just a cultural issue. Ms. Becermen said that enforcing laws that already exist can dramatically improve things as well. "Turkey has laws, a lot of nice laws that aren't implemented. You have to find your way through those laws to be protected."
She added, "the biggest problem is always impunity… And women are always the most affected."
Ending on an upbeat note, all three Maynes fellows expressed optimism that things are changing – and for the better. Each one has been instrumental in changing their own society, and are poised to do even more in the future. "We focus on parts of our societies that are underserved," Ms. Mirzoyan said.
Ms. Ben Yedder agreed. "Citizenship is about belonging. It is a way of living. And that is what we're working toward."
Bill Maynes Fellowship
Dedicated to the generous and gregarious spirit of Eurasia Foundation's late president, the Bill Maynes Fellowship is a program that supports outstanding individuals from the countries where Eurasia Foundation operates. The fellowships builds personal and professional connections between emerging leaders in countries in which we work and their counterparts in the United States. The Maynes Fellowships are entirely financed by private donations.