Transparency and Accountability in Public Administration and Services project wins USAID Digital Development Award
November 4, 2020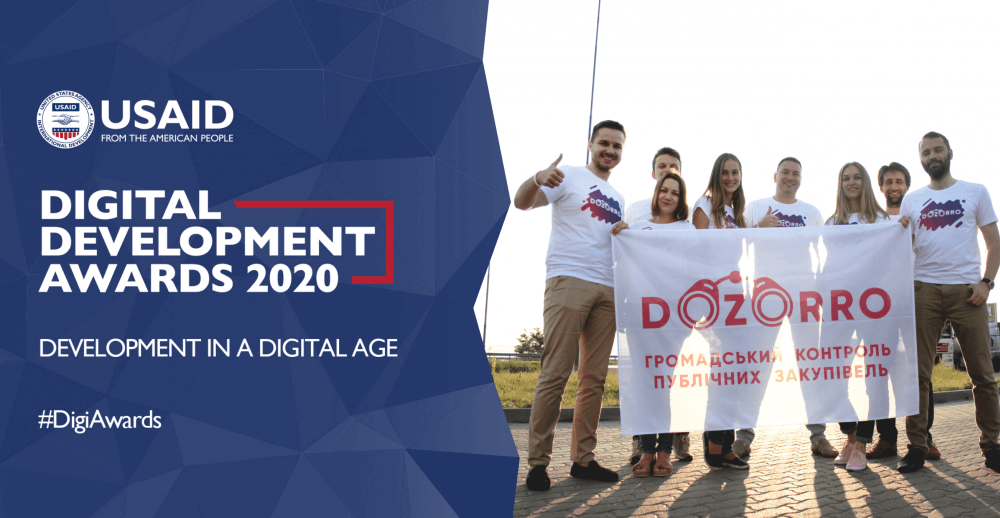 Eurasia Foundation's Transparency and Accountability in Public Administration and Services (TAPAS) project has been named a 2020 Digital Development Award winner.
The Digital Development Awards, presented by USAID's U.S. Global Development Lab, recognize cutting-edge projects and activities that apply digital technology and data-driven analysis to achieve development goals. This year, USAID honors TAPAS for its use of technology to address systemic corruption in public procurement in Ukraine.
Since 2016, TAPAS has supported Ukrainian citizens and the Government of Ukraine to implement visible and successful reforms in public administration and services. eGovernance reforms eliminate opportunities for corruption, improve the efficiency and effectiveness of public service delivery, and foster trust between citizens and government.
"We strongly believe that digital technologies, together with cooperation among government, business, and civil society, can build a solid foundation for sustainable and effective digital ecosystems that eliminate corruption," says Petro Matiaszek, TAPAS Chief of Party. "This award is an important recognition of our staff and partners' hard work and commitment to a Ukraine free of corruption."
Ukraine has long struggled with systemic corruption, as powerful oligarchs leveraged opaque public procurement processes to direct government contracts toward their preferred business partners. However, in 2014, the country's Revolution of Dignity ushered in a new, reform-oriented government. This presented a window of opportunity to effect change in many areas of governance, including public procurement.
To address corruption in public spending in Ukraine, TAPAS employed a two-pronged approach.
First, Transparency International Ukraine (TIU), an implementing partner of TAPAS, advanced an electronic procurement system for government purchases. Known as Prozorro ("transparency" in Ukrainian), the open source platform ensures efficient public procurement by simplifying oversight and enhancing competition among bidders. Use of the Prozorro system for nearly all public procurements became required by law in August 2016.
"A key principle of this system is that everyone sees everything," says Vasyl Zavordnyi, CEO of Prozorro. "Our case highlights the power of open data and digital tools to empower citizens to hold their governments accountable, and to drive lasting change."
Shortly after Prozorro became mandatory for public buyers, TIU, working under TAPAS, built a citizen watchdog network and public procurement monitoring portal, DOZORRO ("watchdog" in Ukrainian). DOZORRO is a community of 26 civil society organizations (CSOs), 46 public buyers, and over 1,000 volunteers across Ukraine. The DOZORRO network operates on a portal integrated with Prozorro. Using powerful analytical tools developed under TAPAS, the DOZORRO network analyzes state procurement data, identifies high-risk tenders, and submits grievances to public authorities. An average 700 grievances are submitted monthly.
Together, these systems have transformed public procurement in Ukraine.
Between January 2017 and October 2020, Prozorro saved the Ukrainian state budget $4.4 billion. In the same period, the DOZORRO network analyzed over 32,000 high-risk tenders. Of these high-risk tenders, nearly 30,000 were brought to the attention of procuring entities and oversight authorities through formal complaints. More than 4,700 high-risk tenders subsequently became anti-corruption "wins"—that is, the tenders were canceled or substantially amended by the public buyers or illegal tender decisions were reversed. The total value of these fixed 4,700 tenders totaled more than $462 million.
"Prozorro and DOZORRO represent a 'golden partnership' between government buyers, suppliers, and civil society. In just a few short years, these systems have restored billions of taxpayer dollars to the state budget," says Ivan Lakhtionov, Director of Innovation Projects, TIU. "We are moving in the right direction."
Eurasia Foundation is a nonprofit international development organization committed to the idea that societies function best when people take responsibility for their own civic and economic prosperity. Our programs help small businesses become more successful, governments more responsive and accountable, and civic organizations more effective and resilient. Eurasia Foundation has offices and programs in the Eurasia region, the Middle East, and China. Follow us on Twitter, Facebook, Instagram, and LinkedIn.
For inquiries related to TAPAS, please contact Civic Engagement and Governance Program Officer Nehal Gupta at [email protected]. For inquiries related to Eurasia Foundation, please contact Communications Officer Julia McLean at [email protected].