Russian and American Filmmakers with Disabilities Share Their Stories
May 30, 2018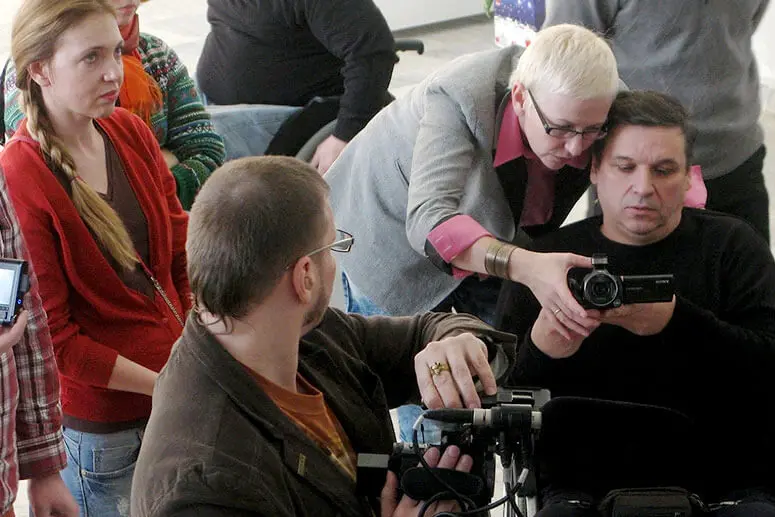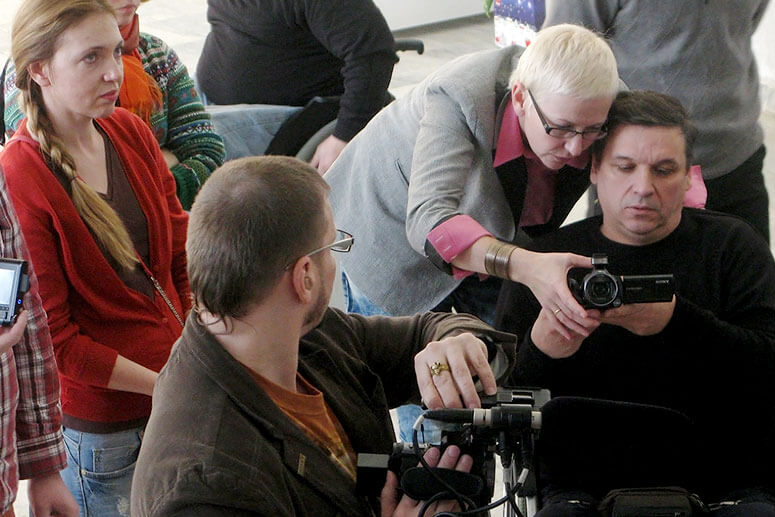 Attend a screening of "All for One and One for All in Washington, D.C. on Wednesday, June 6. Click here for details.
Although awareness of people with disabilities and the challenges they face is growing, lack of understanding and empathy remain problems in many societies. In fact, the desire to tell stories that provide deeper understanding of the challenges that people living with disabilities face every day can bridge cultures.
A team from the Downtown Community Television Center (DCTV) in New York City and Moscow's Journalism Advancement and Support Center (JASC) recognized that people have stories that need to be told about accessibility, love, prejudice, and dreams. These organizations combined their experience and their networks to connect people with disabilities with journalists in both Russia and the U.S. to help them tell their stories and promote cross-cultural understanding. Together, they are known as Media Enabled Musketeers.
"Media can divide people, but it can also be a tool to fight for inclusion and create opportunities for people," said DCTV co-founder and project lead Jon Alpert.
Alpert traveled to Sergiev Posad in Russia to train nearly 50 people living with disabilities and local journalists on sensitive storytelling and disability so they can start filming and telling their own stories. Participants received hands on instruction at a local television station, "Radonezhie."
Sergey Shiryaev, a journalist from the local newspaper "Sergiev Vedomosti," came to the seminar to cover it for his paper but ended up joining the training and produced a documentary on Anastasia Mazur, a Paralympian on the Russian national goalball team—a sport specially designed for people with limited eyesight.
This project has demonstrated how much work remains to be done to address stereotypes, accessibility, and empowerment in both countries. For example, during the training, a wheelchair-bound participant had to go down several flights of stairs and cross the street to use the restroom. The more stories that get told, the more these situations will be recognized.
Alpert also lead a similar training in New York City where Elena Zubareva gained the skills she needed to help tell the story of wheelchair athlete Bill Reilly, who has completed 34 marathons. She worked with Achilles International, an organization that empowers people with disabilities to participate in mainstream athletics.
"I always admired people with disabilities who found strength in themselves; who, in spite of everything, systematically partake in sports, conquer new heights, and, most of all, overcome their own inner barriers," said Elena. She ran alongside Bill Reilly during the New York Half-Marathon to help capture his story.
After the training sessions in Russia and the U.S., 35 Russian and 15 American participants began developing documentaries and have formed a Facebook group to stay in touch and discuss their projects. Click here to watch the films created by the participants.
The documentaries will eventually appear at a film festival organized by Moscow's Center of Documentary Film and on local television in both Russia and the US.  Alpert hopes to eventually have the films shown on HBO in the U.S. and 24DOC in Russia.
Through the Media Enabled Musketeers' determination and commitment to their cause, Russian and U.S. citizens with disabilities are able to share their experiences and the challenges they face.