Reflections on Russia: 3a приключение!
October 27, 2017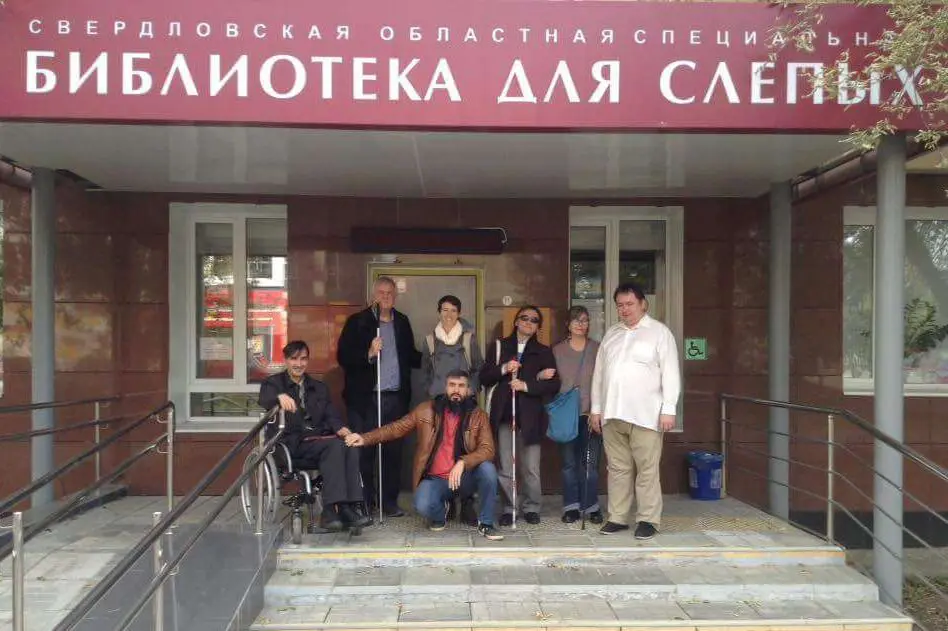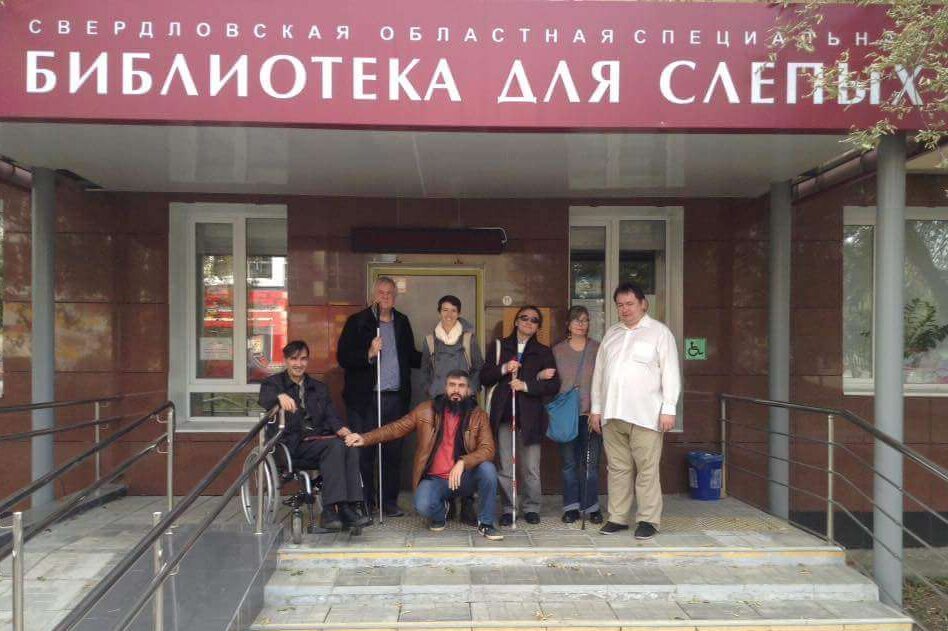 This blog originally appeared on Abigail's personal blog at Reflections on Russia: 3a приключение!
I returned home to Berkeley, California, from my trip with Eurasia Foundation's US-Russia Social Expertise Exchange (SEE) Disability Initiative program four days ago. Upon arrival, my housemate asked me to describe the experience in one word. "Just one," he stressed. Faced with what felt like too formidable a feat (particularly when relying on augmented, jet-lagged cognition), I proceeded to negotiate for one word in English, and one in Russian. He agreed, and in English I said, "Complex." In Russian, "Spasibo!" [Спасибо]. This translates to "Thank you!".
While I might have chosen any number of other descriptors in either language, "complex" seemed to capture my feelings about the trip, which, at that moment of questioning and still, are very much in process. I've described my travels since to friends and relatives using the following adjectives: great, awesome, enriching, confusing, unexpected, unique. I expect I'll have developed quite a lexicon to draw from the more I'm asked to reflect on the Exchange, but the singular, "Complex," that I uttered a few days ago now still feels appropriate.
As does the Russian summation. I suspect that I said "spasibo" at least once in every conversation I had with a new acquaintance (or, honestly, stranger in passing) in Russia. This might be explained by a particular, ingrained American etiquette, for which I was teased by some of said Russia acquaintances – all in good nature. But mostly, I exclaimed "Spasibo!" liberally because I really was grateful for the opportunity to be in Russia meeting people, and participating in conversations and activities that were so, well, wonderfully complex.
I am truly thankful for the trip given what I was able to learn from, and do with, the people and experiences described in brief subsequently. I know that while I write this post in reflection on past events, the relationships and plans I developed in Russia are now, and will remain, present, alive, and relevant. With this said, I raise a glass from Berkeley, "Za priklyucheniye!" [3a приключение!] – "To adventure!". I hope this toast echos to Moscow, Yekaterinburg, and beyond, as it describes a journey that has only just begun.
Arriving in Moscow
Following departure from San Francisco, me and my fellow SEE participants, Bryan Bashin and Susan Henderson, traveled via Chicago and Helsinki to Moscow. Upon arrival, we got our first glimpse of the country, and of the city by night (what felt like very late night to us weary travelers). Driving into central Moscow I was struck by the grandeur of the city's diverse architectures – constructivist, modern, classical (with a Soviet bent, which I've since learned is termed, "Socialist Classicism"), among others. I captured the following image as we passed Red Square, a dreamy representation of Saint Basil's Cathedral:
Day 1: Moscow
We began our first full day in Moscow at the Dogs as Assistants Training Center, a guide and therapy dog training program that serves the city, as well as greater Russia. Here, we met with Director Elena Orochko and other friendly staff members to discuss the Center, as well as exchange insights on developing, funding, and implementing effective guide dog programs derived from experiences in Russian and American contexts. Following discussion over coffee, tea, and a few of Russia's iconic Alyonka chocolates, we were shown a demonstration of a graduating dog's abilities. A video follows of a guide dog successfully finding, picking up, and returning a white cane to its trainer:
After leaving our new human and canine friends, we traveled to Moscow's Artplay Design and Architecture Center to attend the Universal Design Festival, an event hosted by the Russian Disability non-governmental organization, Perspektiva. Upon arrival we took a few minutes to appreciate with the event's many interactive art installations, a selection of which are pictured below. Following this brief introduction to the Festival, a member of our Exchange group, Bryan Bashin, CEO of LightHouse for the Blind and Visually Impaired, presented (with the assistance of an English-Russian translator) on "Lessons Learned about Inclusion: What's working and What Isn't", to an attentive audience seated comfortably on park benches.
Day 2: Moscow
On the morning of our second day in Moscow we met with Disney Russia to discuss their Marvel Mission Accessibility project. In this meeting (situated, of note, in an Avengers-themed conference room) we were introduced to Veronika Ivanova, Accessibility Program Specialist; Julia Baranchuk, Creative Director Disney Character Voices/Disney Music Group; and others working on making Disney content more accessible to diverse consumers in Russia. Topics of discussion included encouraging proliferation and implementation of audio description and closed captioning projects. Furthermore, the group productively brainstormed on how to make many types of information essential to the movie-going experience beyond watching (during which audio description might be a key accessible information element, for instance) more accessible; transportation to the theater, as an example (via the provision of information on transportation routing timing), and theater facility conditions. While these environmental elements are critically important for engaging with a company's products – Disney's movies, in this case –  they might not be necessarily considered in corporate accessibility initiatives. This goes to show the breadth of socio-spatial thinking a group must contemplate when generating these types of initiatives, as well as the diversity of stakeholders a group ought engage in efforts to make social spaces physically accessible for people with diverse functional abilities, and therefore, inclusive of these populations. For, these will include the more obvious groups like private corporations and consumers/users, but also those with influence over the built environment (public officials in capacities that shape city planning practice and policymaking, for instance), and more.
In the afternoon we left Disney Russia, and my fellow exchange participant, Susan Henderson, Director of the Disability Rights Education & Defense Fund, and I headed again for the Artplay Center to present a Master Class on "Universal Design in the United States". I certainly enjoyed this high-energy, conversational presentation, and gleaned a number of insights on the state of universal design in Russia from attendees. Generally, the Class encouraged ideation on how to change planning practice to encourage more agile, effective design and implementation of disability-responsive architectural solutions (curb cuts, for instance). Accordingly, conversation drifted to such topics as Design Thinking; societal and state conceptualizations, functional definitions, and models of "disability"; physical and attitudinal accessibility; and legislative frameworks governing disability-responsive urban design in the United States and Russia.
Day 3: Moscow
Our third day in Moscow began with a meeting at Perspektiva's offices. As stated, Perspektiva is a Russian Disability NGO that "aims to promote independence and an improved quality of life for persons with disabilities in the Russian community". Perspektiva's operations extend to many areas including advocacy of disability interests in urban planning and design (hence, efforts put forth in organizing and hosting the Universal Design festival), as well as provision of services in employment training and placement, adaptive sports programs, organization of disability media and messaging, promotion of inclusive education and youth services, and more. It was extremely encouraging to hear of Perspektiva's successes in growing their organization to serve people with disabilities in greater numbers and expanded geographies since opening two decades ago.
Speaking to the impacts of some of their recent projects, Perspektiva staff reported that their employment program places over 700 people with disabilities in non-specialized, integrated workforces annually. Their sports program has partnered with global firms, including Nike and Megaphone, to develop inclusive physical education programs in schools across Russia. Last year, Perspektiva hosted a disability film festival, New Frontiers, that featured over 70 films in 4 days. The event attracted a staggering 5,000 attendees. These statistics are quite compelling, and certainly left me feeling optimistic about the state of disability service provision in Russia. While at this meeting, and in others throughout our trip, contacts spoke of discouraging conditions and outcomes for people with disabilities, Perspektiva's outlook and outputs are evidence that paradigms, which have limited the opportunities of people with disabilities to engage fully in urban life, are shifting. There is much that Russian and American organizations can do and learn to improve quality of life and civic participation of these populations locally and globally. I am fortunate to have forged new relationships through the Exchange that might allow me to advance this process.
Following the meeting, I traveled again to Artplay to present on "Disability-Responsive Urban Design in the United States" at the final day – in fact, in the final hour – of the Universal Design Festival. On the way, we stopped for a Kodak moment (or, maybe, a few moments) in Red Square.
Giving the presentation was wonderful. Again, I spoke before a remarkably engaged audience that asked many provocative and productive questions. I left the Festival with many new friends and certain collaborators with whom I will, and have already, remain(ed) in touch.
Day 4: Yekaterinburg
Bryan, Susan, and I departed early the next morning to fly to Yekaterinburg, Russia's fourth-largest city situated on the Iset River just east of the Ural Mountains near the Europe/Asia continental boundary. Very different from Moscow, but again awesome (quite literally) in its own right, Yekaterinburg boasts a diverse collection of architecture that accents the beauty of surrounding birch forests and supports the industrial, administrative, and cultural capital of the region.
My first stop in Yekaterinburg – or, technically, in the suburban town of Verkhnyaya Pyshma – was at the Martirosyan Boarding School for Blind and Visually Impaired Children (S.A. Martirosyan). Bryan and I were fortunate to arrive just as a performance for Teacher Appreciation Day was beginning! The children danced, sang, and spoke words of thanks ranging from silly to sappy, but all deeply sentimental. Following the performance, Principal Nina Petrovna along with student, Danil, toured us around the school facilities, describing their progressive pedagogical and programming efforts for teaching blind and visually impaired students scholastic and life skills, along the way. Danil gave us a special demonstration of his computer skills in a modern, Apple-outfitted lab. We met the School's orientation and mobility instructor, and were shown tactile maps of the grounds created by the students, among many other highlights. It was such a joyful visit and positive exchange. S.A. Martirosyan modeled an unparalleled scholastic and social environment for blind and visually impaired children encouraging empowerment and ambition generated by one's own confidence, as well as practical skills developed through a quality, thoughtful educational course. I have no doubts that the students we saw perform and their peers will graduate and develop as productive, fulfilled adults. As leaders. I know that we will remain in touch with Principal Petrovna and others to follow this journey, contribute where we can, and keep learning (as good students do).
Day 5: Yekaterinburg
We spent the morning of our second day in Yekaterinburg touring Ganina Yama with the Center for Accessible Tourism. Ganina Yama is the site of the Romanov family's burial pit, and represents holy ground as declared by the Russian Orthodox Church. Rife with intriguing, and admittedly, harrowing history, and distinctly beautiful architecture composed of birch timber-framed structures, it was an enriching visit.
An interesting part of the experience, also, was witnessing accommodations that our group, composed of people with various mobility capabilities – some using wheelchairs – required and employed for touring historical, textbook "inaccessible" structures. Almost all buildings on the site required ascending and descending stairs to access. Accordingly, to enter/exit these structures the two wheelchair users who accompanied us to the site as guides were carried in and out of each building in their wheelchairs by four men. For me, considering the complexities of accessibility as both a tangible component of the built environment and an intangible social construct, the symbolism of this social "fix" for an environmental problem evoked particular thoughtfulness. While it will take me more time and space than what's afforded in this post to think through the implications of acts like these when considered as potential accessibility solutions, it felt important to witness.
From Ganina Yama, we traveled to the Yekaterinburg City Duma (their primary municipal government office, analogous to an American city hall) to engage in a roundtable discussion with the Yekaterinburg Committee for External Affairs and representatives from local disability and accessibility advocacy organizations. Approximately 20 city leaders and accessibility influencers were in attendance. The discussion started with a briefing on the state of accessibility initiatives and service provision in greater Yekaterinburg provided by Olga Nebesnaya. She reported that the city is making substantial progress considering accessibility in public works projects, particularly in the context of accelerated infrastructural development initiatives that the region is implementing anticipating hosting the World Cup next year (2018). She cited, in particular, a project that will ensure all new sidewalks are constructed using bricks with larger surface area than those used historically, in order to encourage greater surface uniformity and streamline travel for wheelchair users and others whose mobility is compromised on rough, non-level surfaces.
Another participant in the meeting, Alexey Sukhorukov, reported on a project he is spearheading with the city government titled, "Accessible Yekaterinburg". I found this initiative particularly intriguing, as Alexey and colleagues are collecting data on the accessibility of public spaces in Yekaterinburg via survey and crowdsourcing methods. These data are spatial in nature, and are being visualized on a map that city officials and the public can use to view what essentially represents Yekaterinburg's accessibility landscape. The city plans to use this participatory tool to prioritize infrastructural accessibility projects and disseminate information on said projects as they move forward. As "Accessible Yekaterinburg" expands, Alexey hopes the mapping tool will also include information on the location and accessibility of social, medical, administrative, and recreation services that might be relevant destinations for travelers with disabilities. I see great potential in this initiative to reduce both the information and physical access barriers that might keep potential travelers with diverse functional abilities from navigating the city. I suspect it will be difficult for Alexey to curate this data in perpetuity without continued city support and buy-in from an engaged public, but, regardless, find it hugely encouraging that Yekaterinburg is taking this technologically advanced, innovative approach to measuring and elevating city accessibility. It represents an e-government approach to participatory accessibility planning that is similarly being tested in the United States through civic public engagement programs that rely on crowdsourced spatial data, like Oakland Public Work's use of SeeClickFix. I mentioned this in the meeting to Alexey's delight, shared the website, and intend to remain in touch with him and others involved in the Accessible Yekaterinburg project to encourage its development and maintenance now, while the city remains in the World Cup development stage (which presents an apt opportunity to ensure accessibility remains a priority in the city's planning and design agenda), and beyond.
The meeting progressed with description of additional projects working to encourage more accessible tourism in Yekaterinburg, elevated accessibility thinking/training in pedagogical programs for architecture students, greater access to affordable wheelchair repair services, accessible arts and culture initiatives, adaptive sports, and more. The meeting concluded in high spirits following productive exchange of comments, and a discussion of effective practices and lessons learned from the United States that might be applied to advance the accessibility agenda in Yekaterinburg.
After trading business cards and hearty "Spasibo!"s with our fellow roundtable participants, we left the City Duma and were escorted on a brief walking tour of the city's central business district by Alexey Filatov, a disability advocate and arts professional in Yekaterinburg working to develop cultural and educational projects for people who are blind or have low vision. Our tour ended with a visit to the Boris Yeltsin Presidential Center, where we were guided through the Co-Thinkers exhibit, which "invites visitors to reconsider the way we experience art and rediscover the variety of perspectives possible in a contemporary museum." Describing the exhibit's mission, its curating group, Garage, reports, "Co–thinkers includes interactive stations that combine curator's comment with a range of tools for perceiving art: audio description and tactile models for blind and partially sighted visitors, and videos with comments in Russian Sign Language for the deaf and hard of hearing. The exhibition also features stories about the chosen works by the four 'co-thinkers' themselves." It should be noted all of the "co-thinkers" mentioned are artists with disabilities. I found the exhibit to be interesting, and certainly a progressive model for developing and exhibiting contemporary arts in a more inclusive manner, considering visitors potentially disparate sensory and perceptive experiences.
We concluded our visit to the Center with dinner, accompanied by many of our Yekaterinburg hosts from the Center for Accessible tourism, White Cane, and other organizations. It was fabulous to spend the end of our last full touring day in Russia dining with new friends while Friday night wedding fireworks illuminated our view of the Iset River and Yekaterinburg city skyline.
Day 6: Yekaterinburg
Anticipating flying back to Moscow mid-afternoon, we made use of our final morning in Yekaterinburg by touring the Sverdlovsk Regional Special Library for the Blind. Confronted on entrance with the Library's impressive tactile map of the Sverdlovsk Oblast region, we then proceeded to tour the facility's collections of braille books, audio recordings (on various media), and accessible technologies.
Following a very brief visit, we traveled with the Center for Accessible Tourism to a small outdoor market to pick up souvenirs for family and friends back home (I purchased some pins depicting promotional images for the Vostok Programme, the Soviet-era human spaceflight program), and made a final stop to quickly view a model of Yekaterinburg City placed at the Yekaterinburg Theater for Young Spectators. Seeing the city from above, and interacting with this beautiful public art piece was a spectacular ending to an unforgettable visit to Yekaterinburg.
Departing Russia
Following our departure from Yekaterinburg we traveled back to Moscow for one evening's stay in a hotel adjacent to the airport. After enjoying a relaxing meal, we ended the evening on a somewhat wistful note for the busy, stimulating, enlightening days of our trip since passed. We left Russia the following morning changed, eagerly anticipating bringing lessons learned and memories from our Exchange back to Berkeley, but still, at least in my case, sad to go. I found comfort in ultimately bidding farewell to Russia with a declarative, "Do svidaniya!" [до свидания]  – a typical Russian goodbye that translates to, "Till (the next) meeting."
About the Author: Abigail Cochran is a Ph.D. student in the Department of City and Regional Planning at the University of California, Berkeley. Her research draws on the fields of urban planning, disability studies, and information science to critically examine "accessibility," or the ability of travelers – with a focus on people with disabilities – to carry out spatially distributed activities when moving within cities. Prior to beginning doctoral study, she received a B.S. in Ecology and Evolutionary Biology from the University of Arizona and completed the Master of City Planning degree program at UC Berkeley.
Author's Note: The views and opinions expressed in this blog are those of author, Abigail Cochran, and do not necessarily reflect the official policy or position of the US-Russia Social Expertise Exchange or Eurasia Foundation.