Planting the Seeds for a Sustainable Future
May 31, 2017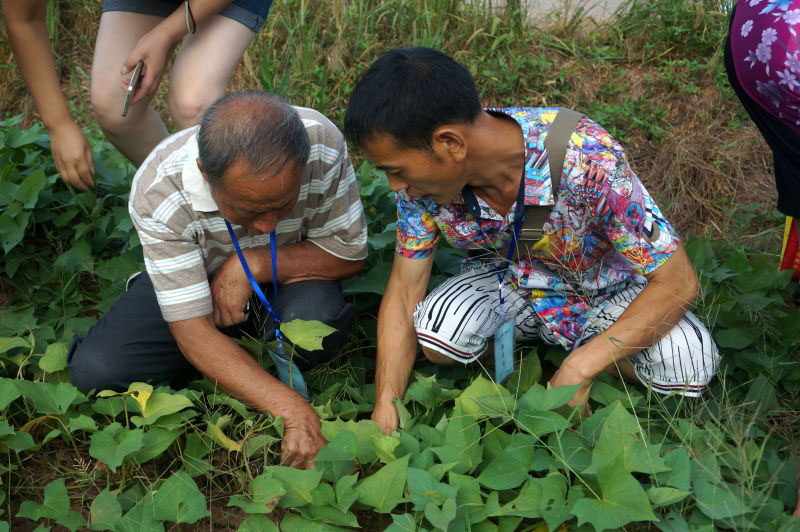 "Almost no plastic bag can ever dissolve, even after hundreds of years," said Sarah Al-Ateeqi, an environmental activist and a trainer with EF in Kuwait, "and plastic bags are being used in all our supermarkets."
Sarah started working with EF's n-mu program—or I grow, in Arabic—to spread her sense of social responsibility to youth in Kuwait. Her resume boasts a history of civic activity: she founded the Kuwaiti Heritage Society, has a Ph.D. in plant ecology, and is an editor and presenter of "Plant Every Day," a local TV show. Still, Sarah sought ways to bring others into the conversation.
In Kuwait, n-mu gave youth the tools to actively engage their communities. First equipping the trainers in leadership and advocacy skills, trainers went on to grow program participants as critical thinkers and pushed them to produce real campaigns with a tangible impact. And as she mentored her team, Sarah said that "having the constant and caring communication with [the EF team] was the most powerful tool."
Sarah's team came up with the "Green Bag Q8" project. Highlighting sustainability as a key issue facing their society, they launched an initiative that introduced reusable, biodegradable fabric bags to their local grocery stores. With an extensive social media campaign, a promotional video, and more than 3,000 reusable shopping bags distributed, the team's campaign championed recycling in their communities.
Kuwait is not the only country where EF's programs are cultivating greater civic engagement. And as EF plants the seeds, program participants are turning around to plant their own.
Across the region, EF's online training program has catalyzed a campaign to combat air pollution in some of the most polluted cities in the world. This awareness-raising campaign, called "May Your Skies Be Blue, Countrymen," gave over 200 taxis free tune ups to reduce pollution, distributed milk as a form of sustainability, and gave away more than 1,000 informational brochures throughout the various events. Such a multifaceted advocacy campaign required a high level of coordination and management skills, and the online training program cogently provided just that.
The events didn't just aim to raise awareness—they elicited deeper engagement from citizens. EF partnered the campaign with prominent influencers, from the mayor's office to prominent NGOs and corporations.  With the help of a powerful network, the campaign expanded the number of events to effectively hold citizens and businesses accountable for their surroundings.
Communities across Asia are similarly taking responsibility for their own environment. EF launched the China Rural Women's Empowerment program to foster local civic participation among women in Western China whose families have left their villages to become migrant laborers. With a multitude of environmental challenges endemic to western China—such as water pollution, land use, and urbanization—the women have created a team of leaders in local environmental protection efforts and are transforming their communities from the inside out.
In Central Asia, EF's School of Entrepreneurship equips students to address social problems with innovative and sustainable solutions. Recently, the school has spotlighted an awareness-raising campaign entitled "Climate Change and Me," featuring esteemed scholars and energy specialists, that has increased climate change awareness among tens of thousands of people across the region.
EF is also partnering youth in the US and Russia to for greater environmental health. The US-Russia Social Expertise Exchange (SEE) has created several bilateral initiatives, including the Waterway Education and Protection project, a training program that encourage stewardship of local waterways, the Hudson and Volga Rivers, through local, grassroots education and community organizing; Global Forest Link, pairing and training 500 high school students from the US and Russia to gather and convey their environmental findings to a global audience; and Quit Buddy International, a mobile app connecting US and Russian students to help each other quit smoking, fostering mutual accountability and cultural education.
With EF's programs, people across the world are becoming leaders for environmental protection. For Sarah, the most rewarding part of it all was learning to inspire change with her community of colleagues. "I am proud of the learning curve I went through with this amazing team, as a person and as a facilitator and mentor."
Because of participants like Sarah, EF sparks continued civic engagement, creating what Sarah calls "the ripple effect." "For a project to have a great impact on society, you need to keep working on it," she said. As of now, Green Bag Q8 will continue making waves, after signing a partnership with a local social responsibility organization. The success of Green Bag Q8 and other environmental initiatives highlights the power of community-based advocacy in transforming societies around the globe.
And as we move forward, organic movements will continue forging the pathway to organic living.