Just a Little Trip to Russia: Retired Educator Discovers Shared Vision with Teachers and Students at Volga Encounters
June 13, 2016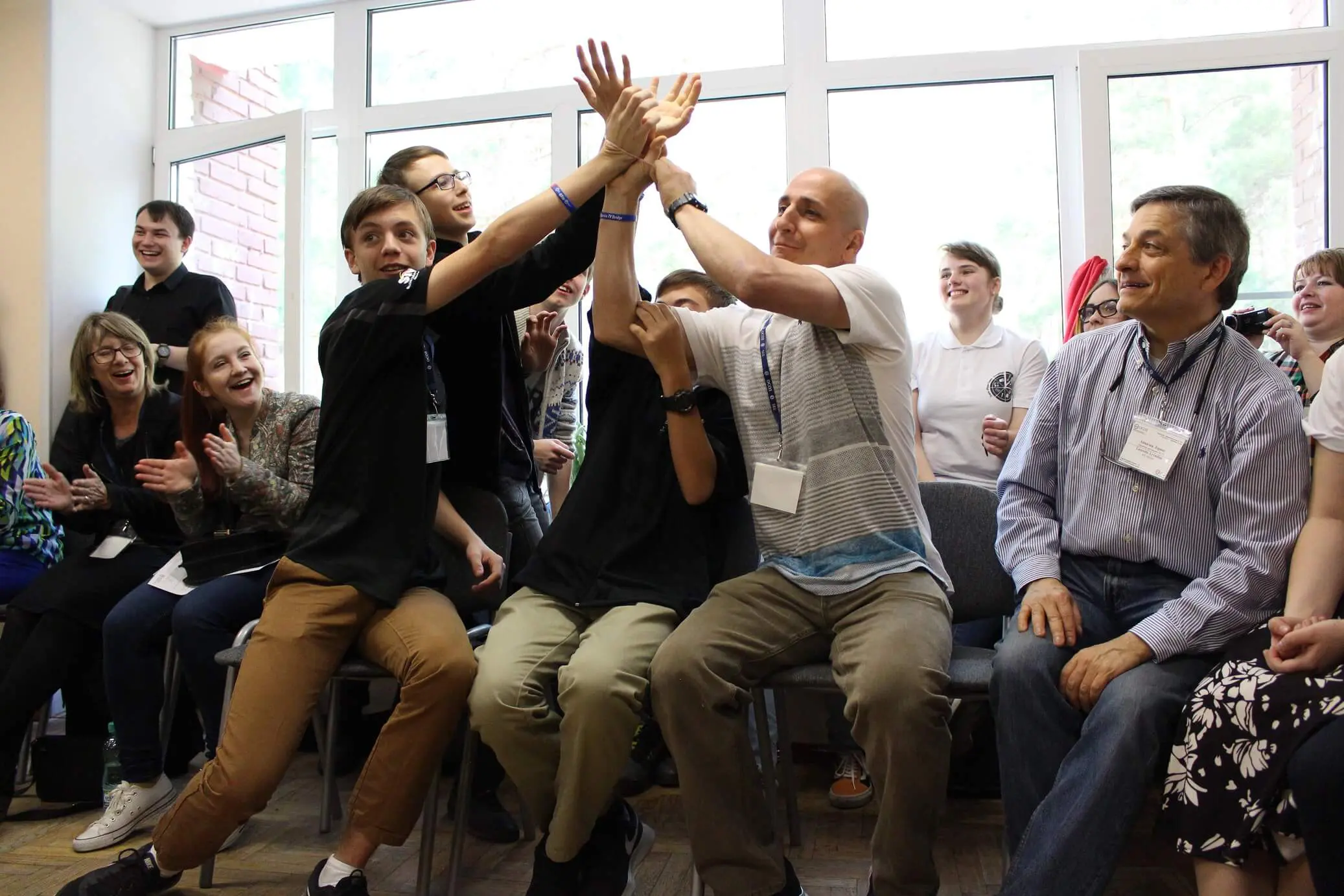 By the time I arrived in Cheboksary, Russia, for the Volga Encounters Youth Festival of Media and Cinema, I had already visited Moscow, Petrozavodsk, St. Petersburg and Kazan. Before this trip, I had never been to Russia, nor had I ever imagined it; but now I find my life forever changed by its beauty, expansiveness and people. On the first night in Cheboksary, I was enchanted by the energy and talent of the groups that performed at the opening ceremony: dancers, cellists and singers of all persuasions.
One 11-year-old boy we met on that first night was so interested in the American visitors. He held up a pinecone to me and said "Shishka," a Russian word meaning "pinecone." He kept saying "Shishka" and pointing to the pinecone. I said "Shishka," but he wasn't satisfied until I told him "Pinecone." He repeated it and smiled. He wanted to know the English word for the object he showed me. From that time forward, he was the shadow of the American students, always ready with a smile and a high-five when language presented a barrier. I didn't need to know Russian to see his passion.
As President of the Board of Directors of the Student Television Network (STN) — an association of high school and middle school broadcast, film, and media programs headquartered in Carlsbad, CA — I have helped plan our annual conventions for the past 13 years. Two years ago, our board decided to pursue a partnership with the Eurasia Foundation's flagship program, the U.S.-Russia Social Expertise Exchange (SEE), enabling us to reach out internationally to students and teachers in television production.
This March, SEE brought a group of young journalists from Russia to the 2016 STN convention in Atlanta, GA, where they also officially launched the U.S.-Russia Youth TV Bridge project — a special initiative bringing Russian and American students with a passion for TV journalism together to collaborate on news segments. American students were invited to participate in a 30-second video competition, and the team with the best video won a trip to the 27th annual Volga Encounters festival (or "Volzhskie Vstrechi," as it's called in Russian), which brings students together to share several days of collaboration. That's how the winners — a group of high school students from Weston, Florida, chosen to represent STN in the TV Bridge project — and I found ourselves in Cheboksary in early May.
Our role was varied and non-stop. We presented an overview of STN, as well as a discussion about the TV Bridge project. The American students each presented a video about themselves and spoke to the audience about their lives in Florida and their impressions of Russia. They were rock stars and quickly became the focus of the students' attention – especially the girls!
Through focus groups with both students and teachers, we generated ideas about how to structure our collaboration. Some teachers noted that they would like to collaborate with teachers from other cities and countries so that they can better educate their students. The American students and EF staff were featured on a talk show, where they were asked questions about their impressions of Russia (beautiful and different), their future goals (aeronautics and college), and their limited pronunciation of various Russian words. The American students also teamed up with two Russian students to produce a short video piece where they guessed the identity of various famous Russians.
Throughout our time in Cheboksary, we interacted with teachers and students who were fascinated by our presence and genuinely interested in the amazing opportunities we were exploring. We met teachers from all over Russia and (and even Kazakhstan) who were deeply interested in collaborating with SEE and STN on everything from building their studios to the basics of storytelling and advanced media studies. Here we found a true parallel for the lessons of STN and the history we have with mentoring educators.
I got involved with STN because I was a teacher looking for help in training my broadcast journalism students; that same desire was evident in the teachers we met at Volga Encounters. I could see that they were searching for ways to challenge students — but more than anything, they wanted to share their students' projects with the world. We are more alike than different. This experience opened my eyes to the possibility of an international network of teachers and students, transcending borders and language barriers to produce videos together.
This trip to Russia and Volga Encounters made me think about endless possibilities. What amazing people I met during my travels! To the many new friends who are now part of my life, thank you for your welcoming and loving spirit. Do novoi vstrechi!—until we meet again.
Jacki Romey has been involved with STN since 1999 and is currently President of the Board of Directors. She recently retired after 30 years of teaching broadcast and print journalism in Arkansas and Arizona. Jacki was named Journalism Teacher of the Year in 2009 by the Arkansas Scholastic Press Association. Since retiring, she continues as a mentor for teachers with Student Reporting Labs.