How a Trip to the STN Convention in the U.S. Changed My Life
February 16, 2018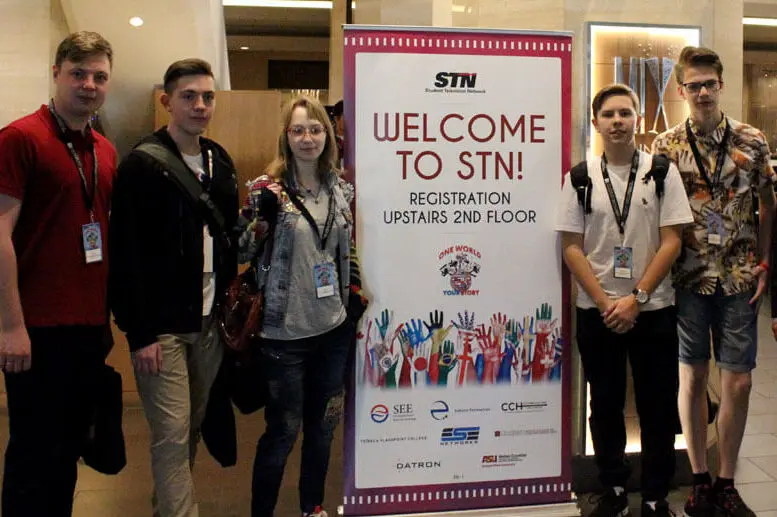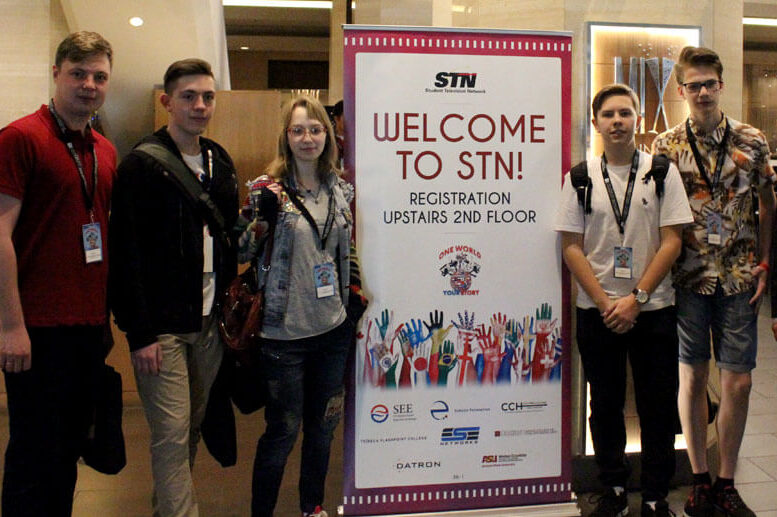 A blog post by Anna Hrebtova, participant of the US-Russia Youth TV Bridge project, implemented by the US-Russia Social Expertise Exchange' program.
Plane rides, acquaintances, master classes, shoots, interviews, travel—but this is not the beginning, but rather the middle of the story. First, there was a youth media festival Volga Encounters. There we found out about a 30-second video contest from Eurasia Foundation's US-Russia Social Expertise Exchange program representatives.
The creativity is born within, and our own within was defined very clearly: in 30 seconds, tell the judges why our team should lead the inaugural season of Youth TV Bridge and travel to the Student Television Network Convention in Anaheim, California. Kids from all across Russia took part.
Us—we were no exception. In the video, we showed how similar Anaheim and Yaroslavl (our hometown in Russia) were, and also, our lead actor became the embodiment of Russian culture. In summer, Nikita stood in the center of the city dressed in a famous Russian fur hat with flaps, valenki felt boots, boxers, while strumming the balalaika (a Russian instrument that resembles a large, triangular guitar). Those 30 seconds were enough to relay our idea, and therefore we won. Of course, we rejoiced when we found out we won.
Before the trip, we, together with the U.S. team, worked on the US-Russia Youth TV Bridge. It was difficult—sometimes we didn't know how to shoot, sometimes we argued, sometimes we were way too dangerously close to deadlines. Oftentimes as we were shooting, we were preparing for finals: graduation exams for me and annual exams for others. But all of these efforts were well worth it, especially because we truly enjoyed what we did. We were getting to know each other, learning how to manage our time, exchanging knowledge with peers from the U.S., finding compromises and creating something original. And there it was—rush hour. Departure from Moscow. Sun, palm trees, warmth. New streets and houses. New people.
At first, we were watching, then we were being interviewed, then we interviewed them. I was afraid that the language barrier would be an issue, and I was also extremely shy about my Russian accent. With time I realized that it isn't that important how you speak, but what you say, knowing that made everything much simpler. The culmination of our participation at the convention was the Crazy 8s  contest. Everyone is split into teams , every team receives the same contest instructions. There are only eight hours to compete in the contest and not a minute more.
Here our team became pioneers—the TV Bridge team united in person, and together we shot a morning show release.
We took honorary fourth place.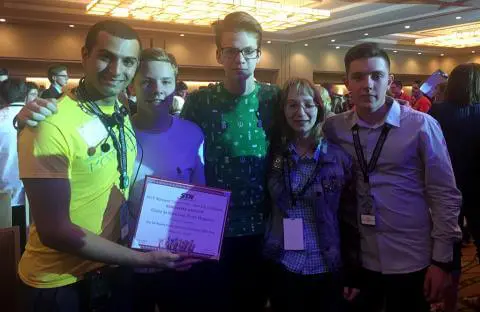 I will never forget what I learned over the course of participation in the Youth TV Bridge. There are events, after which one's perception of the world changes correspondingly. TV Bridge is one of them. Over the course of my work on TV Bridge, I decided unequivocally to make multimedia a part of my life, and at the international level. At the STN Convention in Anaheim, I saw lights of passion in those kids' eyes; they were creative, eccentric, emotional kinds. We were different, but we were united by love for what we were doing.
After the convention, I understood my strength and weaknesses; I set concrete goals. I understood how important it is to value one's team, to ensure that the circle of communication is not limited to those who speak the same language, and to learn something new all the time.
By the way, I am now studying journalism in Moscow. I often visit international events in the capital, and I am still building grand plans for the future.
Of course, I will write about them… or shoot a film. And one last thing- if you want anything, pursue it, and you will absolutely have good fortune. As all success is the result of our diligence.