How a Trip to Russia Launched My Career
February 5, 2018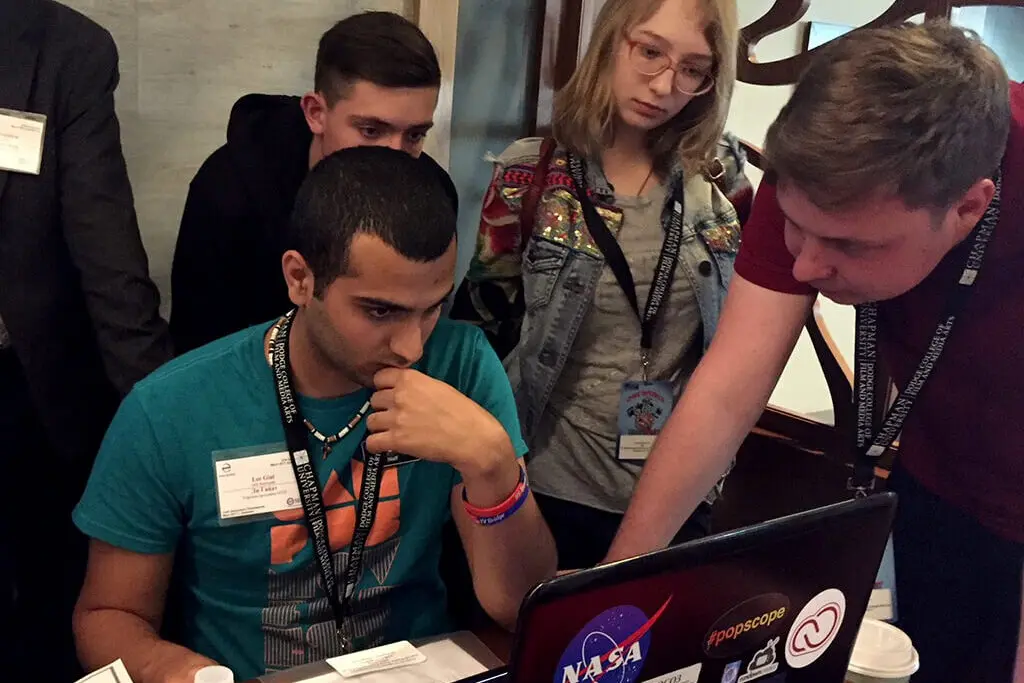 Lee Giat and two of his Cypress Bay High School classmates took part in the US-Russia Social Expertise Exchange's (SEE) 30-second Video Contest announced at the Student Television Network (STN) Convention in Atlanta, Georgia, and won. Their reward consisted of being selected as the US anchors of the joint US-Russia Youth TV Bridge project, implemented by SEE, and traveling from Weston, Florida to Cheboksary, Russia to be the first American students to attend the Volga Encounters Youth Media Festival. Here is Lee's personal story on how this trip launched his career.
By Lee Giat
What do you want to be when you grow up?
It's a question every student seems to encounter. As a second-year college student, that answer has shifted constantly since high school. I began making videos when I was seven years old. I made short films with my neighborhood friends using my mom's camera and Windows Movie Maker, and overall, I entered the beginning of a long learning experience.
That was until 2012, when I joined Cypress Bay High School's TV Production program. I began to learn that video production as a whole, not just filmmaking, was a platform. Whether it's used to tell a story, to convey a message, or to just showcase some creativity, it enables billions of people around the world the opportunity to express anything they want. I began to explore this platform by learning and applying my skills in video journalism, live broadcasting, radio production, and much more. Through competing both locally and nationally, I was able to showcase and test my knowledge and prior experience.
Then came the time for my very last national competition toward the end of my senior year. The Student Television Network convention in Atlanta, Georgia. I saw an advertisement in the convention's magazine about a video contest, with the prize being trip to the Volga Encounters youth media festival in Russia. I told my classmates, Ricky and Daniel, that we should enter together. A few days later, I caught the flu. Really bad. I've never been so sick in my life, and this was possibly among the worst times to catch such a disease. Then came the time to create our 30-second long entry (and I had to speak on camera, still sick). After submitting it, about a month later, we received an email from the US-Russia Social Expertise Exchange (SEE) Program – we won!
And just like that, we were on a plane to Russia.
Throughout eight restless days, we were able to get a taste of Russian culture, food, and journalism. The trip exceeded my expectations about the country, and moreover, widened my perspective on the world more than I thought possible. My favorite part of the trip was the people and the overwhelming sense of pride in everything they do. As we stayed in dorms at a facility used as a summer camp, we were constantly invited to many music sessions, outdoor games, and just deep conversations about life.
I graduated high school a few days later upon returning to the United States, and I moved to Jacksonville to pursue degrees in Multimedia Production and Astrophysics. Throughout my first year of college, I continued constant communication with SEE, STN, and my Russian counterparts during the creation of The Youth TV Bridge, our cross-cultural/collaborative student-produced video series. We discussed sports, disabilities, and journalism: taking a closer look at both the United States and Russia. We reached out to students in both countries and were able to bring together stories from dozens of schools and students to be featured in our program. Overall, it opened my eyes even further as to what's possible with a little hard work.
SEE, The Youth TV Bridge, and my trip to Russia exposed me to the world of possibilities. The idea that high school students were able to bring two culturally different/ distinctly unique countries together through a television series was beyond anything I expected to be doing at 18 years old.
After concluding my term as the American producer of the show, I was conflicted with my own ambitions during my ongoing college career. As a student pursuing two (completely different) degrees, I wanted to create a platform that would allow me to express my passions for both video production and space exploration. That's when my former roommate, Kenny, and I had the idea of creating our online science series, theSTEM. We would not only utilize and improve our video production abilities, but it would serve as an excuse to learn and explore many interesting topics in space and science as a whole. Through theSTEM, I've been exposed to a plethora of new experiences. Including flying in zero gravity, hanging out with astronauts, speaking at elementary schools, and hosting live planetarium shows.
Currently, theSTEM airs on the University of North Florida's cable television network and at www.YouTube.com/theSTEMseries. New episodes release bi-weekly, and we are proud to announce that Season 2 of theSTEM is now available. You may catch our pilot episode here:
So, what do I wanna be when I grow up? Well, it's not a question that can be answered simply. With every new experience comes a new perspective.
As they say,
Век живи – век учись.